Great Adirondack waterways await.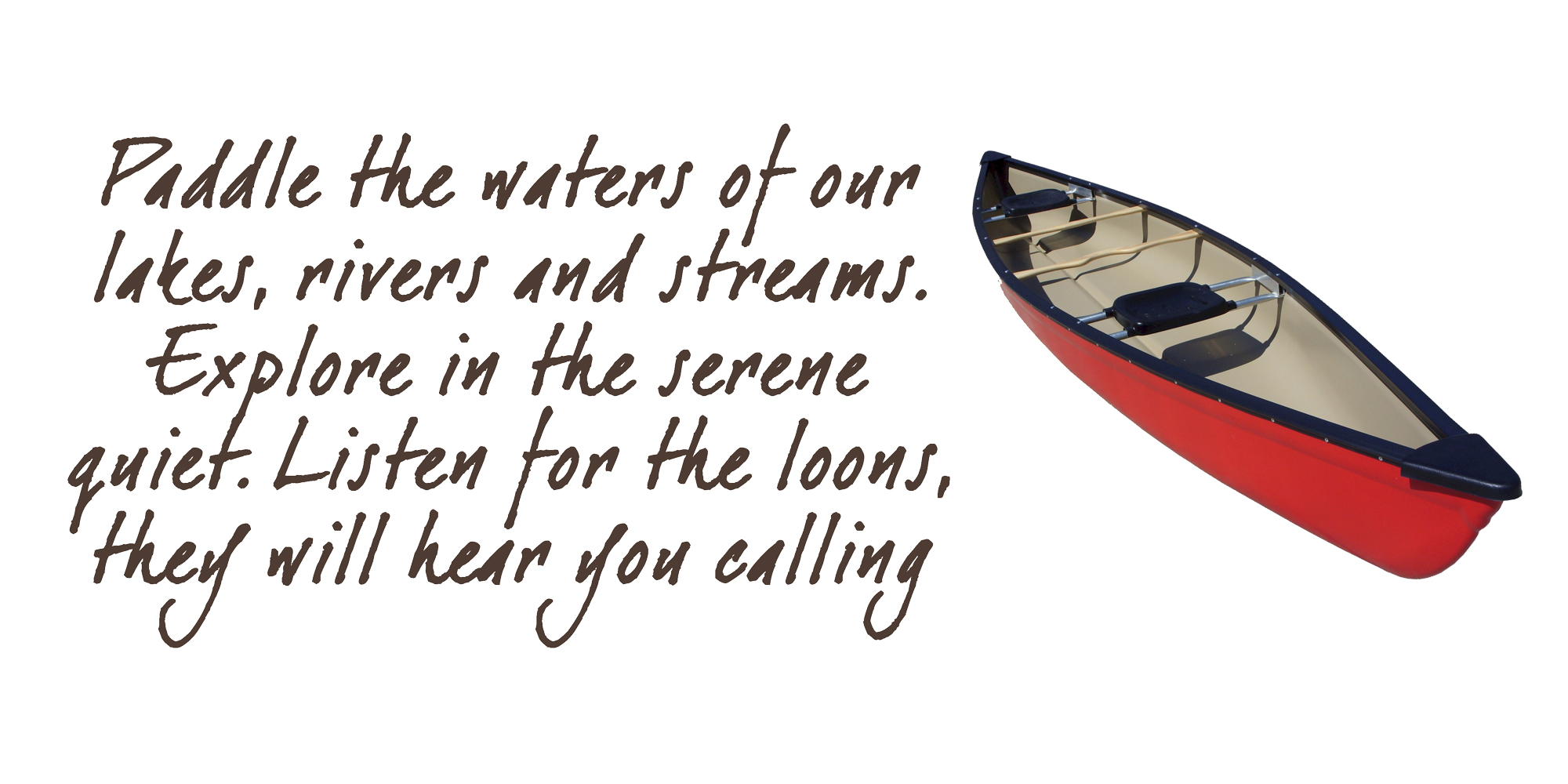 3000 lakes and ponds, 30,000 rivers and streams in the Adirondacks.  Long Lake and Raquette Lake are the gateway to so many places to explore the Raquette River Corridor, Northern Forest Canoe Trail and an important stop along the infamous 90 Miler Canoe route.
Outdoor paddling experiences are cherished traditions harkening back to the days when paddling was a necessity for survival.  Nowadays, a variety of ways to enjoy the water abounds. Plenty of campsites along the waters beckon the visitor to rest.  More exploring tomorrow. Pick up a map at an area store, or stop into the Long Lake Tourism Office for suggestions.

Paddling Near Long Lake
Raquette River: From Long Lake To Tupper Lake (30 miles) the Raquette meanders between sandy wooded banks with just one carry at Raquette Falls. Traveling with the current you can easily enjoy some fishing and bird watching. Campsites and lean-tos are found along the way.
Long Lake: The prevailing winds are usually to your back on this 14-mile "long" lake. Campsites and leantos are found on the state land along the eastern shore, north of Long Lake. First come first served.
Bog River: Lower Bog has 7 miles of technical Class III water which includes unrunnable drops at 6′ Split Rock Falls and the 30′ Pa's Falls. High water levels and expert level skills required.
Little Tupper Lake & Round Lake: The William C. Whitney Wilderness includes Little Tupper Lake, Round Lake and Rock Pond – which are all connected via channels and have designated campsites. Little Tupper is six miles long and has several islands. Moderate winds can create rough water on these lakes. Anglers will enjoy catch-and-release fishing for native brook trout. A canoe carry route from Rock Pond to Lake Lila links a series of small ponds and carries to Shingle Shanty Brook.
Link to Adktrailmap Paddle PDF Little Tupper
Round Lake
Forked Lake: State land borders the southeast shore, and the east and west end of this 7 mile lake; the rest is privately owned and undeveloped. The downstream route to Long Lake is a mix of flat and fast water and carries.
South Pond: A great flatwater paddle about 4 miles to follow along the shoreline.  Access the put in off of Route 30 just south of Long Lake, NY past Buttermilk Falls Road. Adktrailmap Paddle South Pond PDF
Lake Lila: Lake Lila has 17 campsites, 7 islands, sandy beaches and tall white pines. A .3 mile carry leads from the parking area to the sandy launch site. Climb Frederica Mountain for a panoramic overview of the area.

Paddling the Waters of Raquette Lake
Raquette Lake The many bays of this large lake will provide hours of exploration; keep your eye out for some historic Great Camps. Explore the two-mile channel of South Inlet and Browns Tract Inlet where a one-mile carry connects to 8th Lake on the Fulton Chain. To the north an easy half-mile carry leads to Forked Lake.
Paddling From Raquette Lake to the Marion River to Blue Mt. Lake
The Marion River Carry has a unique and historic past. Steamers and railroads used this to navigate the varying terrain to bring summer guests to the Adirondacks in the late 1800's. The railroad built by William West Durant ran from 1920 until September 15, 1929.
Paddling the 90 Miler Canoe Route
The 90 Miler is an iconic three-day paddle race from Old Forge to Saranac Lake.  Both Raquette Lake and Long Lake are on the trip.  This historic race has been attracting all classes of paddlers and all age groups.  It's a rite of passage for many. Take it slower paced journey and break it up over a few days.  Lean-to's all along the route.