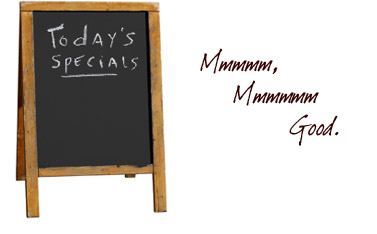 Everyone deserves a night off from the kitchen and with Long Lake & Raquette Lake's broad range of dining opportunities offers something for everyone.  Steaks, seafood, delicious salads, pizza to fun pub fare.
Quaint, cozy, excellent food, Adirondack ambiance and local personality make your dining experience memorable.  Chefs in Long Lake have been professionally trained to create a menu to delight your tastebuds and satisfy your hunger.  Try one, try them all, it's a small town.  If you're on vacation try them all!
Excellent eats at affordable prices.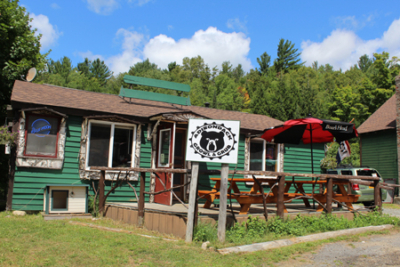 Brookside Hops and Hoagies:
This new business will be open in 2023!  Conveniently behind Hoss's Country Corner. An ever rotating roster of craft beers and ciders. Grab a pint or take your favorite beer home in a Growler.
As soon as we receive new info we will be posting! Stay tuned!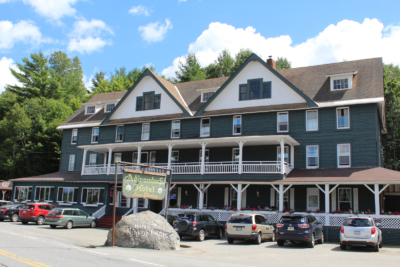 Open-Year round!
The Adirondack Hotel is a unique blend of rustic Adirondack and Victorian design. The building has been renovated to provide comfortable accommodations reminiscent of our past. The Hotels restaurant offers an exceptional lunch and dinner menu complemented by our wine list and is graciously served. Shop in our Gift Shop for that special item.
518.624.4700 For Availability and more information
Visit Their Website: Adirondack Hotel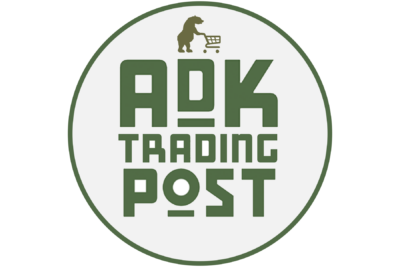 ADK Trading Post:
Open Year Round. Paninis and homemade soups and more! Lobster Rolls on Friday's in the summer and beyond. Breakfast sandwiches available too. There's something for everyone at this unique eatery and gift store. Menu items include a variety of fresh sandwiches good enough for lunch and dinner. Look for meals to go too. Daily specials and homemade soups which have become a specialty unto themselves. Specialty cheeses. Homemade Pies every Friday! Cross Country Ski Rentals. Fun and funky gifts. Fishing and camping supplies. A different kind of general store. Online at www.adktradingpost.com. If it's in stock, we have it!
Located Near Lake Eaton at 1601 Tupper Road adjacent to Ali Babas Liquor Store
518.624.2357 (ADKS) For menu and more information
Visit Their Website: ADK Trading Post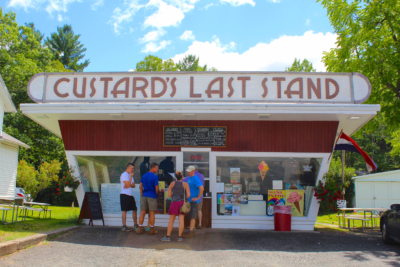 Custards Last Stand:
Who says ice cream isn't a meal? It can be in Long Lake. A huge variety of traditional sundaes, banana splits, hard and soft ice creams. This architectural gem is a treasure in Long Lake and so is the service and the curbside seating. Enjoy your cone before or after your hike. You won't be sorry you checked out this ice cream stand that doubles as one of Long Lake's most iconic attractions.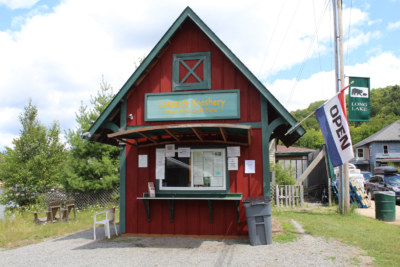 The Lakeside Knoshery:
The Long Lake Knoshery/Long Lake Boat Tours is a roadside stand located just off the beach. Long Lake Boat Tours are offered throughout the day from the docking area adjacent to the Knoshery.
518-624-5253
Visit the website: Lakeside Knoshery & Boat Tours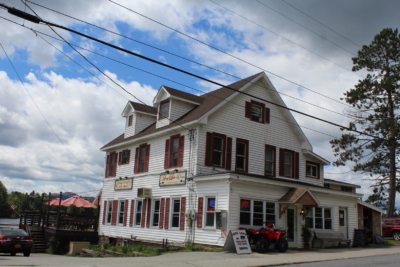 The Long Lake Diner/Owl's Head Pub:
Open Year-Round
Located in the center of Long Lake. Enjoy breakfast, lunch and dinner. Full service dining all summer long with specials including fish fry, lobster bake, pizza and a wide range of dishes to suit every palate.
Open daily except for Tuesday's at 7:30 am and closing no earlier than 10 pm. Breakfast til 1 pm.
Lunch 11 am to 8:30 pm.
Dinner 4:30-8:30 pm and late night til at least 10 pm.
518.624.3941
Check them out on on their website: Long Lake Diner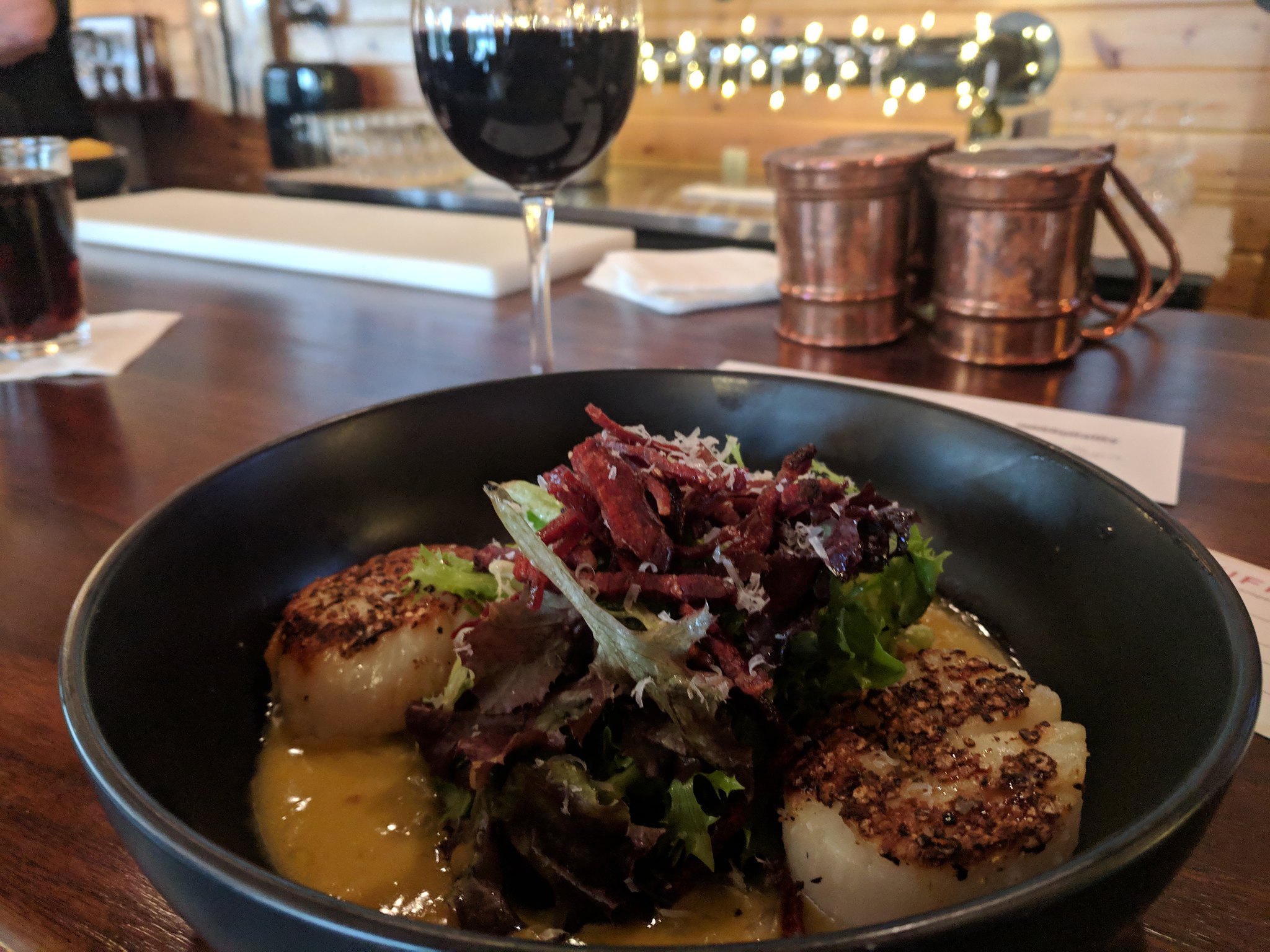 Open year-round
Dining and Full Service bar. Dine with a view. Gorgeous views and delicious dining await at the Long View.
From social plates to entrees, the Long View has it covered.  Menu features unique takes on popular favorites.  Great location with lake view, specialty drinks, craft brews and selection of distinct wines.
518-624-2862
Visit their website: Long View Lodge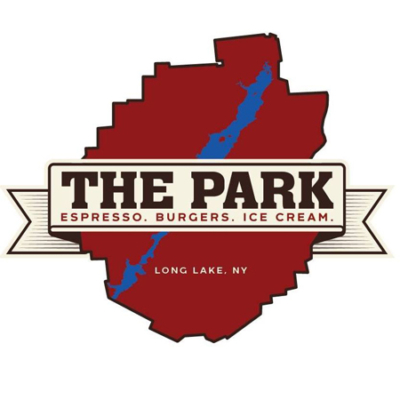 The Park Long Lake
Amazing burgers, coffee from Utica Roasting. Great stop for the whole family.  Outdoor dining on the cozy picnic tables and top it off with soft or hard ice creams with a wide variety of delicious flavors!  Fun play area for the kids to play too!
1142 Main Street
Long Lake, NY 12847
www.theparkll.com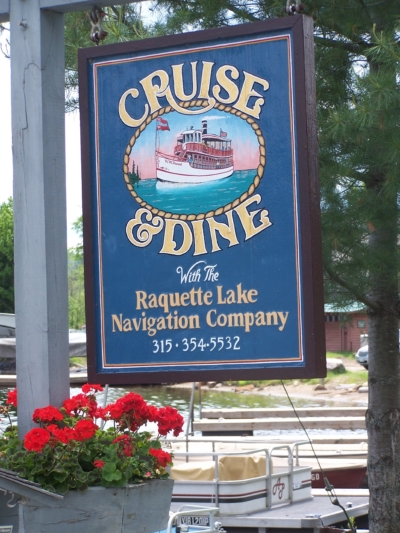 Raquette Lake Navigation offers a unique cruising option to explore the waters of Raquette Lake.  Looking for something special, unique, or creative to celebrate a birthday or an anniversary? How about a ride on a magic carpet? That's what it feels like cruising in the Avery Mae, a 30 ft fantail electric launch.  Green and serene. Truly like riding on a magic carpet! If you're getting married at St. Williams on Long Point, charter the Avery Mae to deliver the bride or bridal party in grand style! Charter the launch for a 90 minute cocktail cruise up the Marion River for up to 8 people.   Or glide around Raquette Lake.
Your 90 min charter includes:  Captain and one crew.
Food & beverage options available for purchase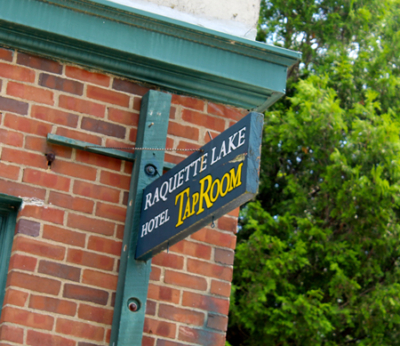 Raquette Lake Tap Room:
Open year round. Good eats at great prices.  Great Burgers, specials including Monday Night Pastabilities with generous portions.  And don't forget the clams!
The place is quirky and quaint, like stepping back in time. It is a great place to mix with locals, campers and regulars and all have something to offer.
Its a great place to get the beat of Raquette Lake, have a robust meal and a great place to mix it up with the community.
The hub of all things in Raquette Lake.  Don't miss stopping here!
And they have steamed clams, in the Adirondacks!
It is off the beaten path with a small bar with a few table scattered about in an old historical building down by the water at Raquette Lake. A few picnic tables outside, a lot of people milling in and out for takeouts. We got a small table right in front of the bar.
315.354.4581

Tony Harpers Roadside pizzeria and Tiki Bar & Clam Shack in Raquette Lake is open during the summer months.
Try the homeade pizza dough (traditional or xtra thin).  Or, maybe our Whiskey Wings, steamers, or 'Raquette Cheese Steak' are more your style.
Tony's is also home to the "Working Man" lunch.  Offered every week day, Tony's gives you an original and hearty lunch for only 5.95.
463 State Route 28, Raquette Lake 12847
315-354-4222