The sweet smell of autumn embraces the air.  Crisp colors, brilliant foliage.  The season is simply not to be missed.  Leaf peepers venture on our scenic byways.  Pick a hike, fall's cool temperatures make it ideal for a wilderness experience. Check the leaf peeping schedule to embrace the vibrancy of the fall colors.  Pack a picnic for Buttermilk Falls, hike up Owl's Head, take in the vista's at Mt. Sabattis. Visit our museums, take in a show or paddle the Raquette River.  Seaplane rides, boat cruises, bike rides, hiking, camping you name it. We welcome visitors all year long.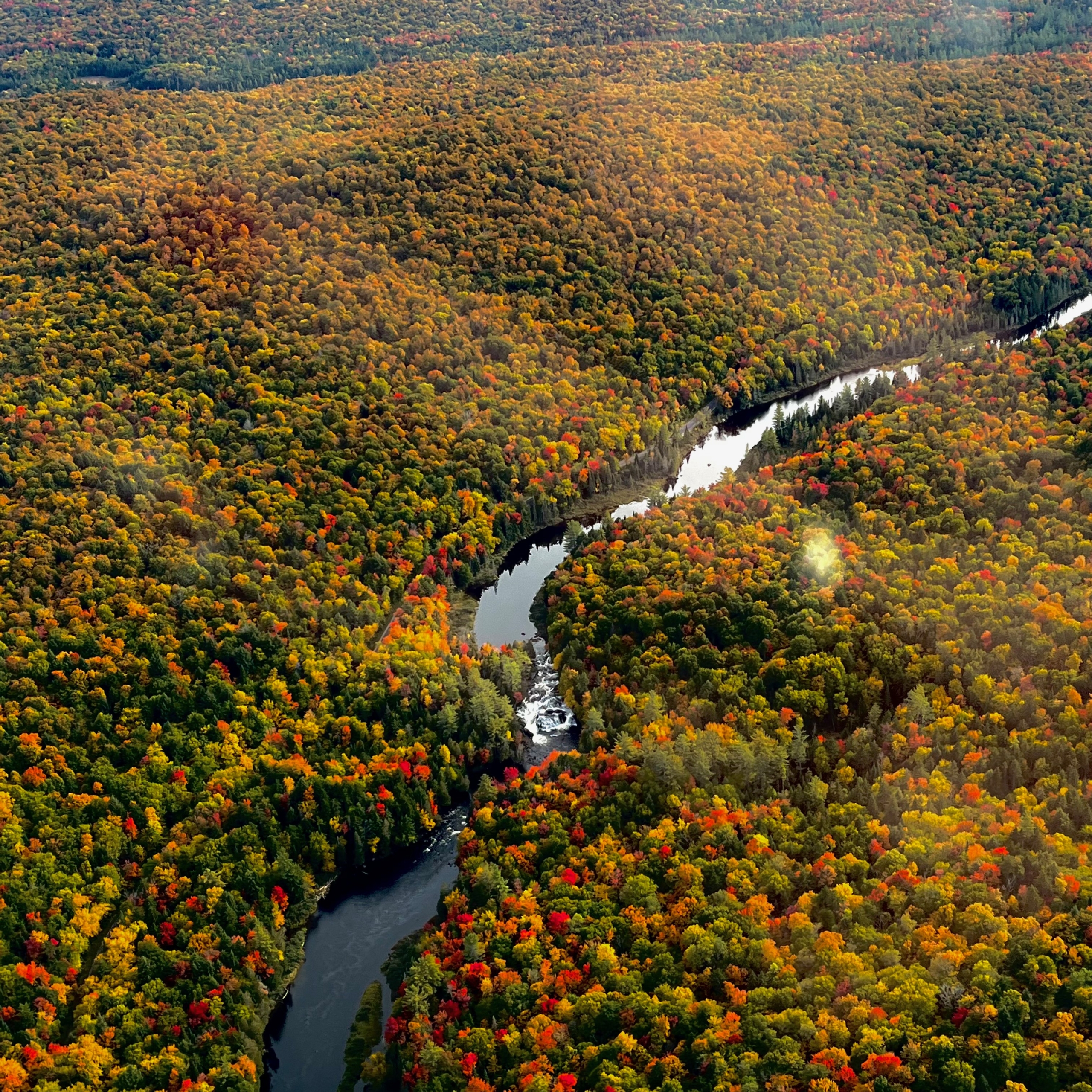 The Great Drive & Leaf Peeping:
September and October are most picturesque month of the year. The maples, beeches and other hardwoods close out the season, not with a whimper, but with a blaze of glory. Reds, yellows, oranges and other various shades mix with the greens of the pines, spruce and balsam to present the visitor and resident alike eye pleasing vistas. While other areas boast of the vibrant colors, the Adirondacks actually have them. Peak color in the Long Lake and Raquette Lake area is generally a little earlier than many other areas with mid September into early October presenting the visitor with the most color.

90 Miler:  
Day one travels from Old Forge through Inlet, Brown's Tract, in Raquette Lake, Marion River and ending at Blue Mountain Lake. The second day of this historica paddling event kicks off at Endion. Always the first Saturday after Labor Day Weekend. Pick a spot at the Long Lake Bridge to watch as the parade of atheletes paddle down Long Lake. The athletes race year after year in this competition of strength and endurance. Blistered hands, focused minds, synchronized paddling are all in evidence as the race kicks off. Paddlers escort their canoes through brush and bushes to launch beach side. The horn is sounded and the race is off.
This event is organized by the Northern Forest Canoe Trail.

Long Boat Regatta:
Last Saturday in September.
ON-LINE REGISTRATION! CLICK HERE!
A competitive paddling event featuring war canoes and C4 boats kicks off from the Long Lake Town Beach at 11am. Registration opens on the porch of the Adirondack Hotel at 9:30am – 10:30am.
A great place to get your last big paddle in before the cold air totally dominates the waters.
Located at the Long Lake Town Beach | Rt 28N/30 Long Lake, NY 12847 | Call 518-624-3077 for more info.
Long Lake Town Beach, Long Lake

Harvest Craft Fair
Long Lake Town Hall, 1204 Main Street
Saturday, October 8th, 2022
10am – 4pm
Free Admission
Gifts, glasses, balsam, baskets, spices, wooden bowls, paintings, drawings, pens, pepper mills, tote bags, textiles, ornaments, cutting boards, jewelry, candles, knitted items, Alpaca Products

Octo-BEAR-Fest:
Saturday, October 8, 2022
Hoss's Country Corner presents the 8th Annual Octo-BEAR-Fest Cancer Fundraiser.
Hoss's Country Corner announces OctoBEARfest at Hoss's Campground at 1142 Main Street, Long Lake, NY  from 10am-4pm. This benefit festival will be raising funds for Randy's Patient Assistance Fund through the C.R. Wood Cancer Center at Glens Falls Hospital. This fund helps cancer patients with their out-of-pocket expenses including gas cards, co-pays, lodging assistance, pre-paid cell phone minutes and prescription co-payments.
Live music by local fan favorites.
ENTERTAINMENT For 2023:
Phil Mosher 10-11
The Yod Squad 11-12
Heartbeat Duo 12-1
Moondogs 1-3
Uncle Jimmy 3-5
Vendors will be on site selling wares including jewelry, handcrafted wooden bowls, knives, and more. This festival atmosphere will offer plenty for the kids including face-painting, and henna tattoos and more. Silent Auction Items include, Antique Items, paintings, incredibly warm/fuzzy blanket. More items will be accepted!
This event will go on rain or shine, so don't worry if it's raining, there's always a tent!
Food and drinks will be sold. A portion of the proceeds will be donated to Randy's Patient Assistance Fund.
Interested vendors are invited to participate for a fee of $25. All vending fees will be donated to Randy's Patient Assistance Fund.
RSVP to Jules at hossscountrycorner@gmail.com or 800-952-4677
Hoss's Country Campground (across from Hoss's) 1142 Main Street, Long Lake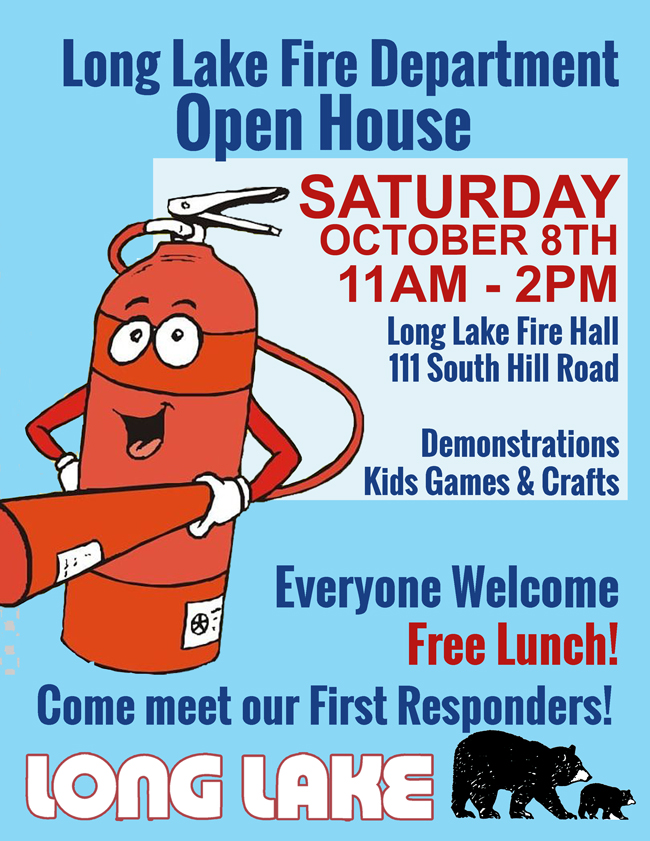 Fire Prevention Open House
Long Lake Fire Department invites the community to an Open House on Saturday, October 8th, 11am – 1pm.
Demonstrations, Kids Games, Food and more!
Long Lake Fire Department
111 South Hill Road
Long Lake, NY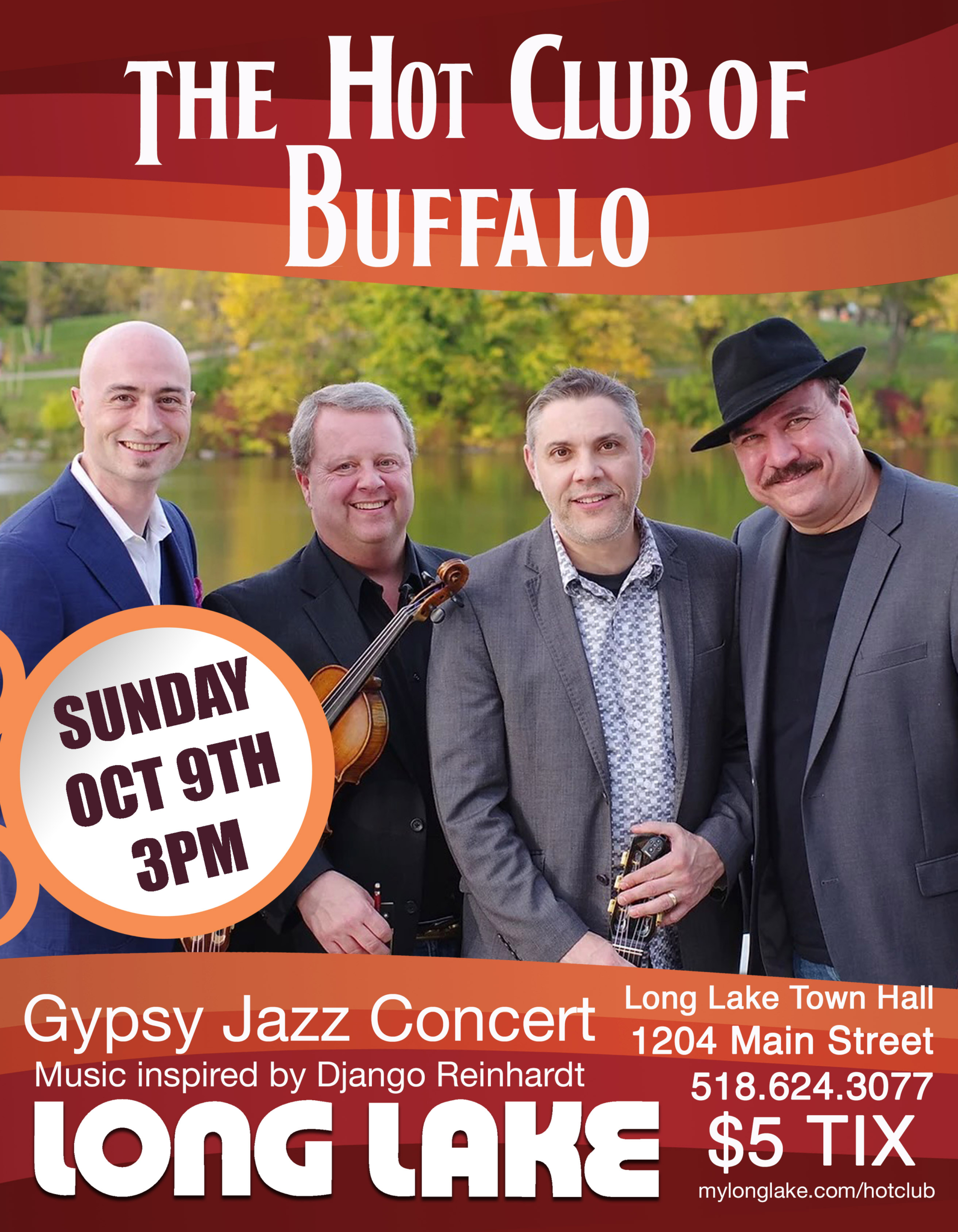 The Hot Club of Buffalo
Sunday, October 9th, 2022, 3pm
Link Here for Tickets

The Hot Club of Buffalo performs at the Long Lake Town Hall on Sunday, October 9th, 2022 at 3pm. Tickets available on-line $15 pp.
Band Members include: Dean Gionis, Kevin O'Brien, E.J. Koeppel and Josh Assad
After many years in the rock scene, a chance encounter compelled Dean to unplug and study classical guitar. It was through that study that a love of Jazz & World Music began. In 2005 Dean formed the group Djambossa, playing a blend of Bossa Nova, Flamenco, and Gypsy Jazz. His love & dedication to these styles is apparent in each of his performances, whether with Djambossa or The Hot Club of Buffalo. When Dean is not busy playing guitar he is busy wishing that he was playing guitar
KEVIN O'BRIEN
Kevin O'Brien has performed and recorded on upright bass in almost every musical style, spanning classical, jazz, rock, bluegrass and world music. He has toured nationally and internationally with groups including Babik, Big Wheelie & the Hubcaps, Dempsey Station and The Jazzabels. His song "Chipotle" on Babik's 'American Gypsy' album received airplay on radio stations throughout America. Kevin also owns and operates The String Brothers, a booking agency that provides jazz and classical musicians for events in Western New York.
EJ KOEPPEL
E.J. Koeppel has enjoyed a prolific career as a performer and educator, winning countless awards and scholarships. In 1981 he joined an acoustic jazz outfit called The Norris Quartet. This proved to be the catalyst for his deep love of jazz violin. Soon after, he had the good fortune to meet one of his violin heroes, Stephane Grappelli. Since then, E.J. has toured with Liza Minnelli & Dudley Moore and recorded with Jeffrey Arthur. E.J. is currently one of the most sought-after musicians in the Buffalo area for both jazz and classical music. He is also the instrumental music teacher in the Kenmore- Town of Tonawanda School district.
JOSH ASSAD
Joshua Assad has been singing & playing music as long as he can remember. As a founding member of the Gypsy Jazz band Babik, Joshua found a deep passion for swing music and early era jazz. He helped create and perform programming which won Babik 7 Buffalo music awards, performances with symphony orchestras (including The BPO), and garnered the group national recognition on the radio charts as well as extensive touring. He loves to bring a light-hearted, entertaining and carefree spirit to audiences everywhere.
What is Gypsy Jazz?
The Hot Club of Buffalo plays a brand of jazz known as Gypsy Swing. It's also called Gypsy Jazz. The style was created in the 1930's by the legendary 2-fingered guitarist, Django Reinhardt. Gypsy Jazz blends American big band swing with exotic European Gypsy sounds.
The music is performed entirely on acoustic instruments. The rhythm guitar takes the place of a drum set. The guitars, strings, and even the picks are specially chosen to get that unique gypsy sound!