Recreation in the great outdoors.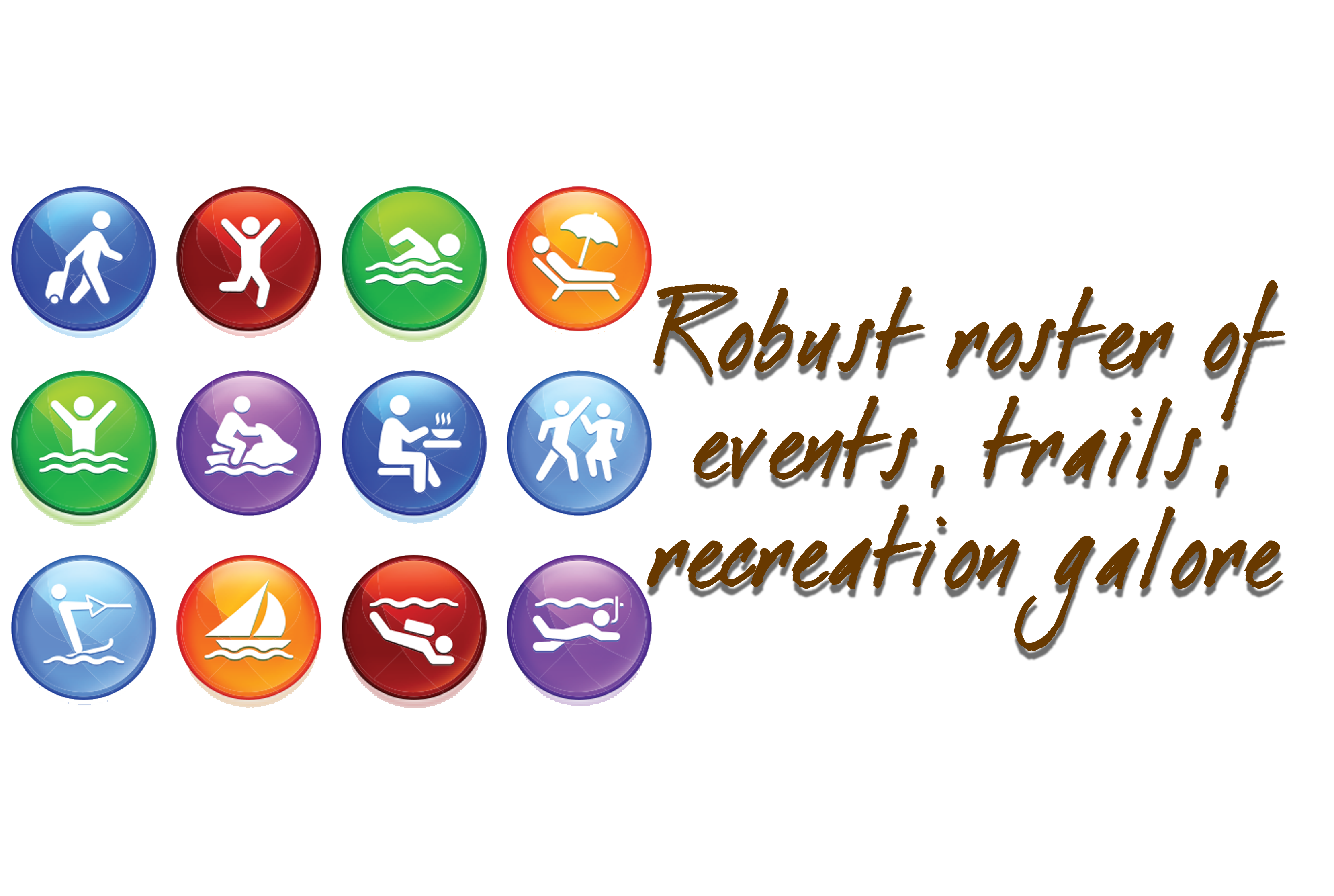 The Town of Long Lake Parks, Recreation and Tourism Department is dedicated to provide programs to encompass all aspects of leisure and recreation services for residents, seniors, children, second home-owners, tourists and year-round residents in the Adirondack region.
Long Lake's programs and facilities bring people together and add to a sense of pride and belonging.  The Town of Long Lake also makes every effort to promote our town as a tourist destination.  We offer concerts, youth programs, craft shows, workshops, theatrical productions, sports and other activities all year round.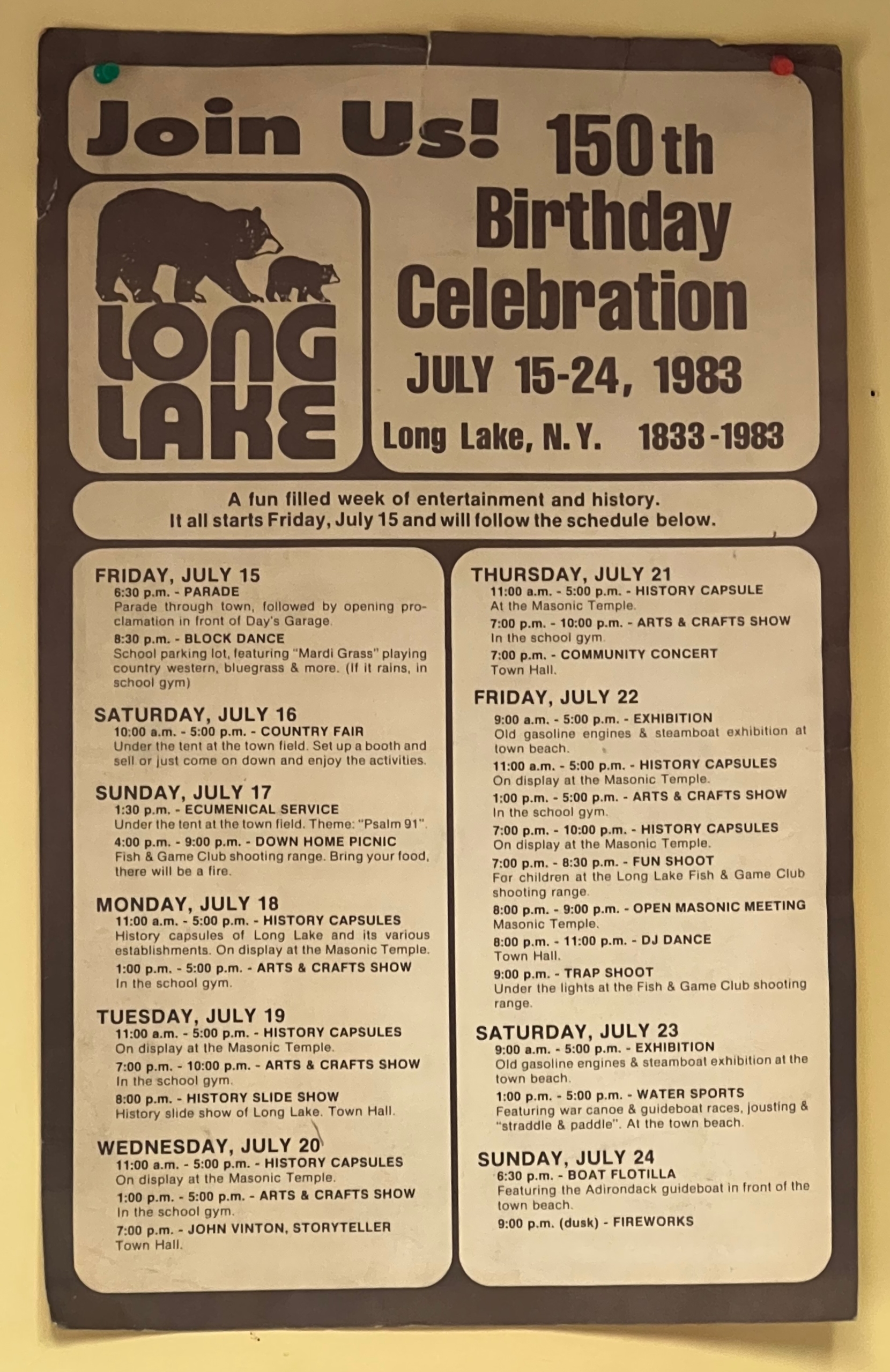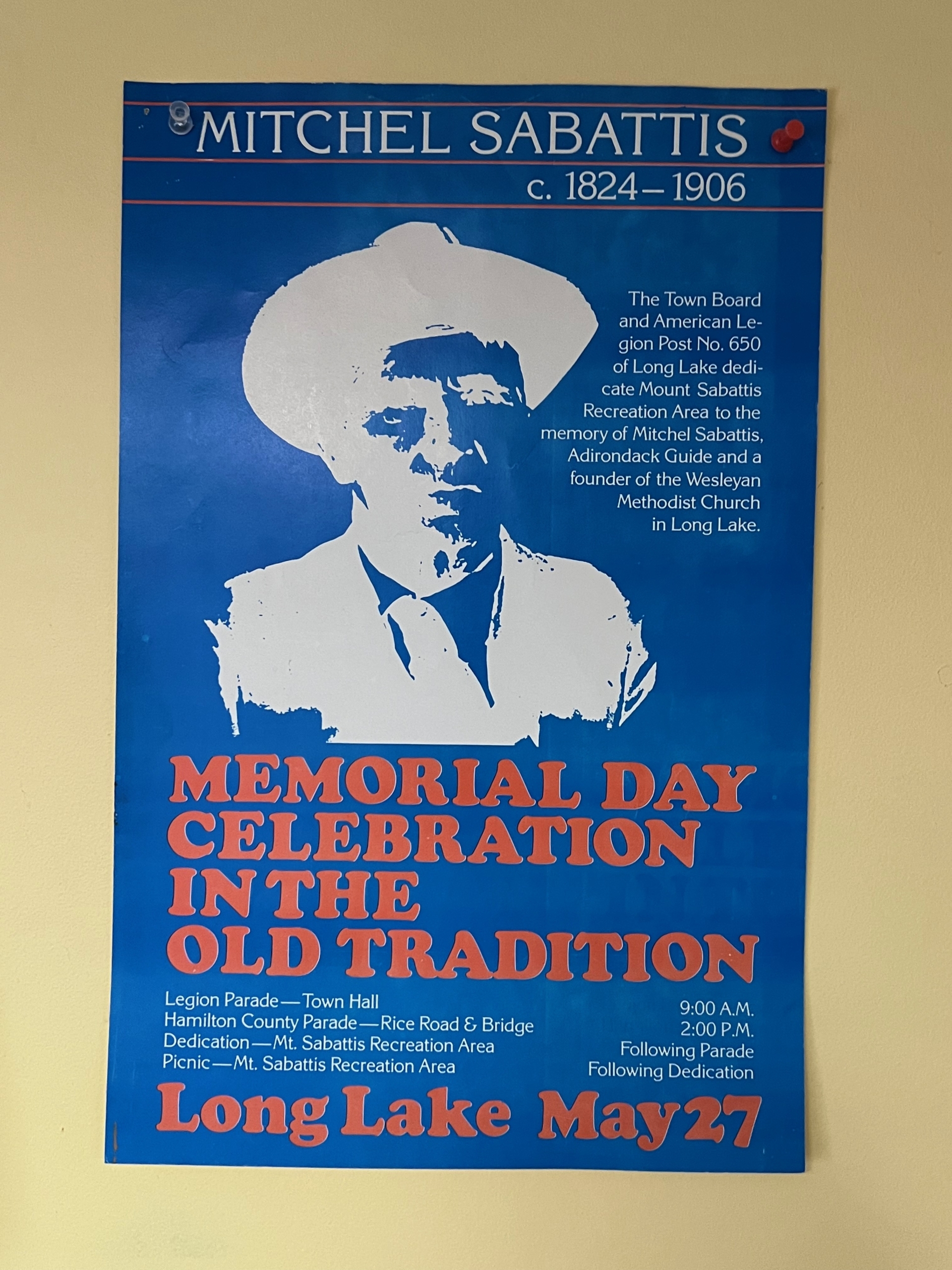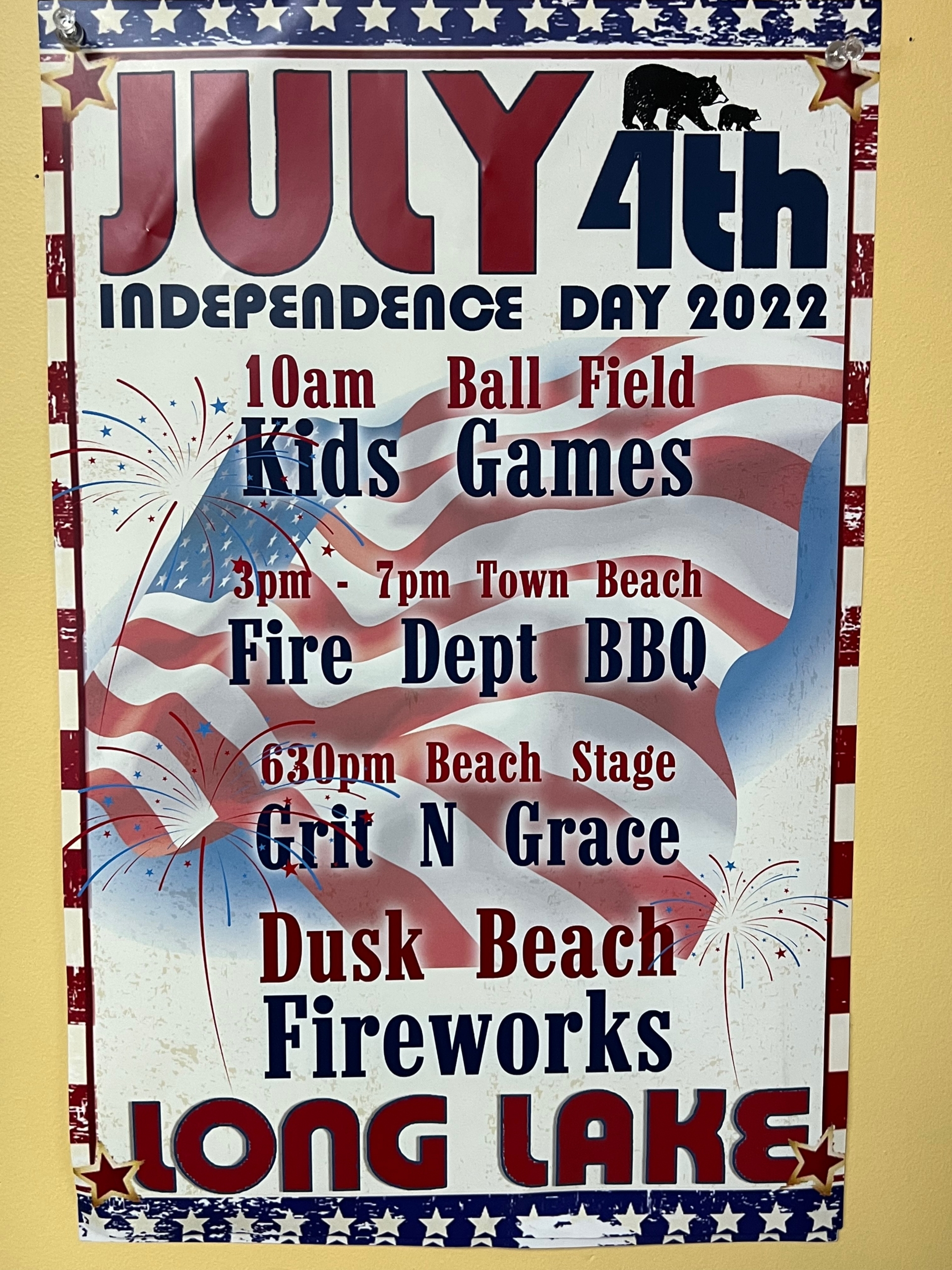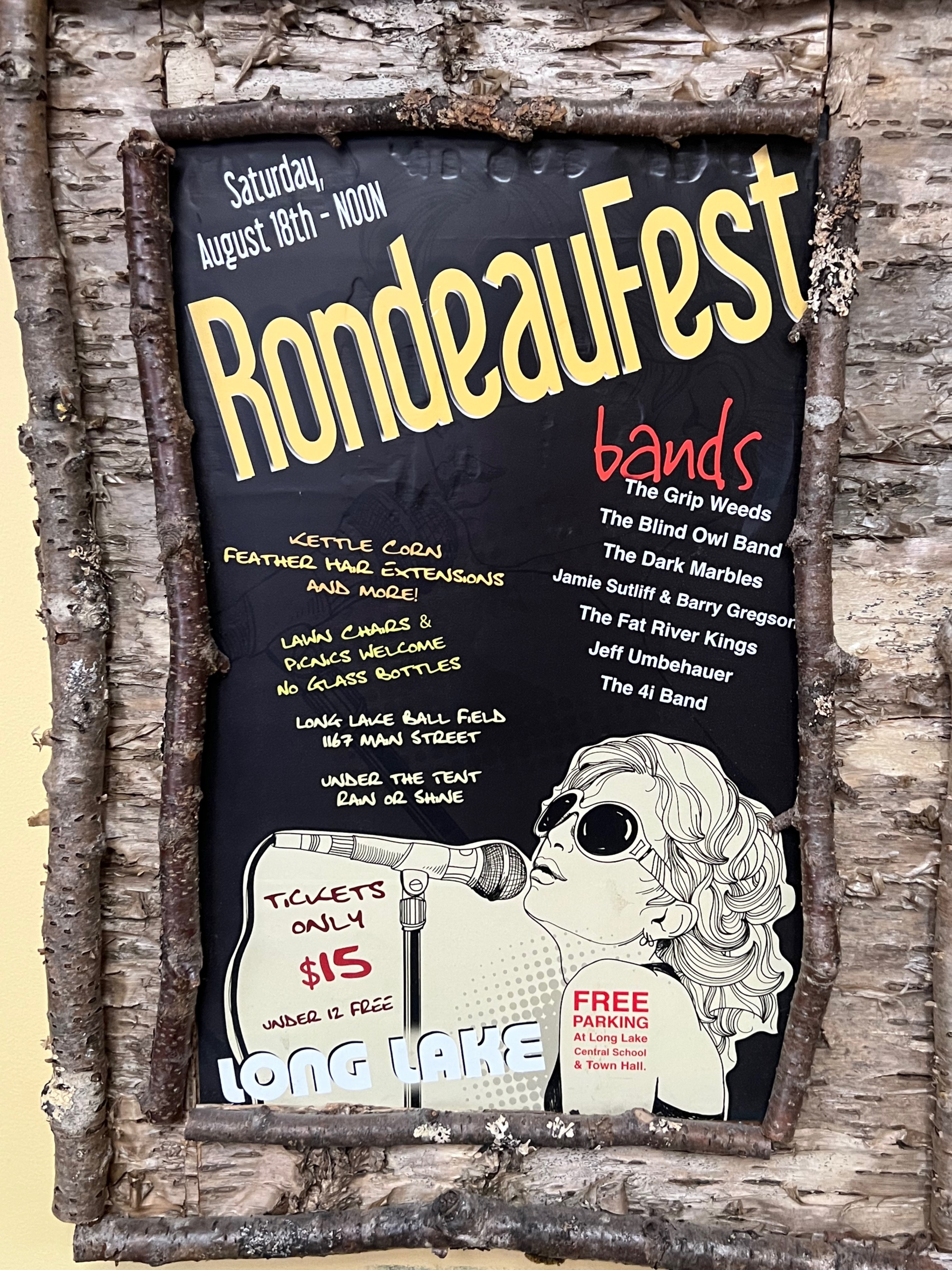 The Long Lake Parks and Recreation Department has been in service to the community as an official department since 1983. A long history of planning and hosting a variety of events, Long Lake Parks and Recreation has been a vital resource to promote events, area attractions, local business and outdoor activities and recreation.
Tourism has been a cornerstone of the Long Lake and Raquette Lake economy since the late 1800's. From the lake shore cottage colonies, destination second vacation homes, the birth of Adirondack Great Camps on the shores of Raquette Lake and to the eventual mom and pop motels that popped up in the 1950's.
Long Lake Parks and Recreation is the clearhouse for promoting and hosting year-round activities to energize the community and to entertain visitors.
Parks and Recreation also manages the Long Lake Pavilion, Ball Field, Tennis & Basketball Courts, the Geiger Ice Skating Rink, Mt. Sabattis Sledding Hill, the Long Lake Town Beach and hiring of all the lifeguards and grooming over 70 Miles of Snowmobile Trails. The Long Lake Parks and Recreation Department also has administrative offices located at 1130 Deerland Road. Services include distribution of tourism information, copies, distributing posters, registration and tickets for events, production of the Mountain Times local newspaper, all advertising and publicity, monthly calendar distribution, the Long Lake Website and Facebook Pages. A full service department open Monday Through Friday 9am – 4pm daily. There is a 24 Hour room at the Town Office that is open for Tourist information, promo materials etc.
January/February/March
Winter Carnivals in both Long Lake & Raquette Lake
Cardboard Sled Races
Kids Movie Nights
Snowmobile Poker Run
Vintage Snowmobile Races
Craft & Cooking Classes
May
Community Pride Day
Fishing Contests
Great Adirondack Garage Sale
Memorial Day Parade
June
Ham Radio Field Days
Kids Fishing Derbies in Long Lake & Raquette Lake
Birding Weekend
July
4th of July with Kids Games, Live Music and a hometown Fireworks showcase
Tie-Dye Workshops in Raquette Lake
Outdoor Movies
Swimming Lessons at the LL Town Beach
Charity Talent Show in Raquette Lake
Art & Photo Show
LL Fish & Game Club Trap Shooting
Live Concerts
Waterski Show
Cardboard Box Float Off
Boat Parade and Fireworks in Raquette Lake
Durant Days in Raquette Lake
Heart of the Park Craft Fair
Swim Races
Paddling Olympics
August
Town-Wide Garage Sale and Book Sale
Author's Night at Hoss's Country Corner
Craft Show in Raquette Lake
Raquette Lake Busiest Days
September
Labor Day Celebrations in Long Lake & Raquette Lake with live music and BBQ
90 Miler Adirondack Canoe Classic
Trivia Nights
Long Boat Regatta
October
Oct-O-Bear Fest Charity Fundraiser at Hoss's Country Corner
Harvest Festival
Leaf Peeping Drives
Ski Movie Night
November
OES Tricky Tray
Trivia Nights
December
Lunch with Santa
New Years Eve Champagne Special Bus
Seniors Lunch with Santa

Parks and Recreation Report Update
TOWN OF LONG LAKE
Jan – March 2022
Submitted to Long Lake Town Board March 30, 2022
Grant Applications Pending
Adirondack Foundation Grant Submitted – request for funds for kiosks for Buck Mt. Fire Tower Trail and Funds for Mt. Bike Map Kiosk at Mt. Sabattis.  – pending review.  $5000 ASK – Update – Grant was awarded – notificiation received
Adirondack Foundation Grant – Parks and Rec worked with Hamilton County IDA to submit and Economic Development grant to Adirondack Foundation for local businesses to access funds. Pending review. Would provide funding for businesses in Long Lake & Raquette Lake and entire county if approved. I submitted information to Kristy Wilt at Hamilton County IDA – and this was an IDA sponsored grant. Local businesses submitted their projects, which were then submitted to Kristy so she could write and submit the grant as the Foundation does NOT fund busineses directly and they needed a funnel organization to handle the grant request. That is pending as well. I want to thank the Long Lake businesses for attending the informational meeting and for their interest in this grant. Again – it is in committee review and nothing has been announced.
ACRA – Northern Forest Center Adirondack Community Recreation Alliance has announced a new round of grant funding for projects that develop outdoor recreation opportunities in Adirondack communities. $5000 ASK
Trail Grant application for construction materials for Buck Mt. Fire Tower was submitted in February. Application is pending.
Decentralization Grant submitted for Music by the Lake – pending review.
GROOMING
Special thanks to Hamilton County Highway/Long Lake Highway for working with town on shelving trails. Also thanks to our private property owners giving us permission to cross their properties.  There are 39 private properties in Long Lake with snowmobile trails crossing a portion of their property. We would not have a trail system without these partnerships. We thank them for their continued support of our recreation program.
Snowmobile Trail Grant GPS data – resubmitted Feb 11th, 2022. NYS Parks, Rec & Office of Historic Preservation grant resubmission. Thank you to Lenny Croote from Hamilton County Soil and Water for his assistance with this project. Grant was approved and full funding was announced after submissions for a total of$33,264 up from the 2021 award of $2116.80
Snowmobile Trail Grooming – has been ongoing steadily since January 17th, 2022, grooming ceased March 7th.   Average about 700 grooming hours for the 2022 season.  Season runs from 2nd week of December until April 1st. If the rails were not in place – we would be able to start season earlier and end later.
7th Lake Mt. Trail – there is rumblings that Protect the Adirondacks will be filing an appeal to the NYS Court regarding the snowmobile connector multi-use trail connecting Inlet to Raquette Lake via the Sagamore Road. This trail was opened in 2012 and is for hiking, biking, horseback riding, snowmobiling & grooming. Closure of this trail should not happen and is pending litigation.
Groomers are being winterized and maintenance/oil changes are being taken care of week of March 14th, 2022.. Groomers to be stored/winterized in Long Lake Blue Line and RL Highway Garage. Special thanks to Wayne, Chad, Opie and Tim LaFrance as well as Hamilton County Highway and Long Lake Highway for Grooming help.
All the gates are closed.
C7B – Grange Park re-route.  Asking that we pursue re-routing Grange Park trail through to Steinfeldt Road. Need to reach land agreement with property owner to have work done on trail. Trail was marked out in January with town representatives:  Tom Donnelly, Chad Baker, Alex Roalsvig & Erik Arsenault. Others on site – President of Moonlighters Jim Jennings and private land-owner on Grange Park, Mike Federspeil.
Bike Long Lake – a privately funded community service project is now underway.
Long Lake Parks and Recreation partnering with a private donor to create community service opportunities for year-round children of Long Lake And Raquette Lake who participate in Community Service projects scheduled for March 19th, April 9th and May 7th.
Anyone with small community service projects, ie. Seniors seeking assistance with outdoor yard-work, shoveling, raking, general outdoor clean up, spring planting,  recycling projects, moving boxes, moving wood, organization, general spring cleaning larger tasks are invited to sign up at Long Lake Parks and Recreation to have tasks done on one of the three Saturdays for participating children to gain credit towards a Mountain Bike. Call 518-624-3077 to sign up
Building & Bus Usage
Town Hall Usage – 27 Uses
January 8 x
Feb 10x
March 9x
Bus Runs
Little Bus –  22 Runs / 60 people
Swim Bus – 15 runs 4x-5x per run
Shopping Bus – 7 runs 5x-6x per run
DATE
EVENT
EST. ATTENDANCE
1/12/22
Trivia Night
20
1/15/22
Long Lake Winter Carnival
275
1/26/22
LL Trivia Night
21
1/28/22
Mike Norris Derby RL
125
1/29 to 1/30
Birding Weekend
9
2/2/22
RL Trivia
6
2/9/22
LL Trivia Night
16
2/12/22
LL Fishing Derby
44
2/16/22
RL Trivia
8
2/28-2/20
RL Winter Carnival
200**
2/18/22
80's Skate Party
30
2/22/22
Skating & Sledding Races
14
2/23/22
XC Ski Tour
1
2/24/22
Oak Mountain Ski Trip
19
2/25/22
Hors D'Oeuvres Tour
56
3/2/22
RL Trivia
6
3/10/22
LLCS Winter Day Geiger
20
3/16/22
RL Trivia
8
3/16/22
LL Trivia Night
25
3/20/22
Winter Bingo
4
907
Review of Winter Events
20 Events – 907 number attendees
NYS Certificates of Competency were filed for Bill Pohl & Chip Farr for 4th of July fireworks licensing and were issued in March of 2022.
Birding Weekend with Joan Collins
January 29th -30th with 9 birders coming in to Long Lake for a two day event. ** five birders canceled due to weather.
Birders traveled from Westchester,  Albany and Massachusetts and stayed at our area lodgings and dined locally for two nights. The Town of Long Lake Parks & Recreation Department works with Joan Collins for this sponsored Winter birding weekend.
Please note – birders do visit and help the Long Lake year-round economic engine – adding heads in beds during weekends that would otherwise be potentially quiet.
Raquette Lake Fish & Game Club for hosting the Mike Norris Ice Fishing Derby on Saturday, January 29th. There were approx 125 registrations and congratulations to our Fish & Game Club and all the volunteers who pull this event together year after year.
The Town of Long Lake co-sponsors fishing tournaments year round and this was a terrific turn out.
Long Lake Fish and Game Club Feb 12th Ice Fishing Derby
29 Adults and 15 kids for record fish catching despite the less than ideal weather.
Trivia has been held at the Adirondack Hotel, Long Lake Diner and Long View Lodge on Wednesday's through the Winter months and at the Raquette Lake Tap Room on Wednesday's.
Trivia is held weekly at the Raqueette Lake Tap Room at 3pm. There was limited attendance in the evening hours, so Kat Forsell opted to do trivia in the afternoons. It is starting to pick up steam. This event will continue during mud season but cease in the summer when business picks up.
Winter Wonderland Week Feb 18th – 25th
Raquette Lake Winter Carnival/Fireworks/Kids events/Frying Pan & Crosscut/Chainsaw
80's Skate Party – Long Lake
X-C Ski Trip with Long Lake Central School Outing Club
Oak Mountain Tubing Trip
Hors D'Oeuvres Tour – 56 particpants / revenue $1753.03
Ice skating and sledding races
Winter Wonderland Bingo – completed.  Participants do outdoor and indoor recreational activites in both Long Lake and Raquette Lake and are submitted for a grand prize. Contest end son March 20th.   Winner completed the entire card.
Raquette Lake Library – Special thank you for the use of their space for the Raquette Lake Winter Carnival
Town of Long Lake rented two porta-potties for RL winter carnival
Update to the Holiday Lights Awards were made. Raquette Lake Holiday Lights were awarded to – Business category tied between RL Supply & RL Tap Room – cash prizes were awarded to those businesses.
Ice Sculptures for Long Lake Winter Carnival included 13 sculptures for Long Lake paid for by the local businesses and one for Raquette Lake – paid by Town of Long Lake
Cedarlands Parking Lot is now routinely plowed along with Lake Eaton. Thank you to the water department.
Long Lake Central School planned an outdoor recreation school day at Mt. Sabattis. It was held on March 10th.   20 students attended
Mountain Bike Bids went out in February, awaiting to announce and accept awards in March.
Long Lake Implementation Committee is now accepting nominations for the committee via Comprehensive Plan Committee.
Summer plans are now underway and building usage is open for the Pavilion and Mt. Sabattis.
Bike & Build – Organized Bike group of 25 bikers are coming to Long Lake in June and will be hosting a Bike Rodeo on June 18th. They have provided appropriate insurance etc. They found out about us via the web. They are hosting a x-c bike tour across the United States from New Hampshire to Portland, Oregon and promoting Affordable Housing as they travel.
Social Media Update
Long Lake Facebook – 31,737 followers
Long Lake Winter Carnival Videos – garnered –
Raquette Lake FB – 6988 followers
Shot, edited two videos for Raquette Lake including grooming video & RL Winter Carnival Highlight video
Long Lake Instagram – 11,700 followers
Adirondackeexperience.com is launching an updated version of the website this Spring. We are working on the listings and updating content.
Long Lake Website – full steam ahead. Alex has moved most content over to new platform. Should be launching in November once summer season is over. Working with web developers at ROOST to host the website. This is at no additional cost to the town.
Upcoming Projects 2022
Mountain Bike Trails
Bike & Build – overnight cross-country bike group learned about Mt. Bike Trails, asked to visit/stay in Long Lake to promote affordable housing and biking. They will be hosting a bike rodeo in exchange for lodging June 18th/19th
Pickleball Courts – second set of lines painted – slated for spring of 2022 by Vermont Tennis Courts.
Buck Mt. Fire Tower –
Contacted Mike Vilegi – he is dropping off pre-fabbed metal roof at the LL Town week of March 20th – he contracted on behalf of the town with Jeffords Steel to have roof fabricated.
Reviewing lease agreement with County and Town
Preliminary meeting with Ham Co Soil Water, Hamilton County reps including Board Supervisor Brian Wells, Bill Farber. Updated and reported on plans and scheduling of trail work slated for spring to get the Hiking Trail open.
Plans are underway to book a porta-potty for the season for the parking lot on Sabattis Road.  Parks and Rec will be required to check parking lot bi-weekly for garbage. There will be no cans at the lot and signage will reflect to leave no litter, but we will be working to ensure that garbage is taken care of per the proposed contract lease agreement with property owner.
Rules for Trail –
Buck Mt. Project – have worked with the Adk Mt. Club to develop Leave No Trace rules. Contacted DEC for suggested trail rules. Have asked Hallie Bond to write a draft narrative for the history of the tower which we will incorporate into an informational kiosk.
Contacted Bruce Jennings to get emergency location address for signage
Rules for review –
Buck Mountain Fire Tower Trail
Rules for Visitors – DRAFT ONLY
Welcome!
This historic fire tower and hiking trail are located on privately land owned by Cedar Heights Timber LLC in Long Lake, NY and managed under lease by Hamilton County and the Town of Long Lake.
The public is invited to enjoy the hiking trail and fire tower.
Please observe the following rules:
Plan ahead and prepare
Please stay on marked trail
Travel on durable surfaces
If you carry it in, carry it out, please do not litter
No campfires
No overnight camping
Leash all dogs
No public hunting, trapping, or fishing
No motorized vehicles
Dispose of waste properly
Leave what you find
Respect wildlife
Be considerate of others.
EMERGENCY NUMBERS
CALL 9-1-1
LOCATION:  484 SABATTIS CIRCLE ROAD, LONG LAKE, NY HAMILTON COUNTY
NYS FOREST RANGER EMERGENCY:  518—897-1300
HAMILTON COUNTY SHERIFF: 518-548-3113
NYS TROOPERS:  518-897-2000
Memorial Day – the American Legion has announced plans to host a ceremony for Memorial Day. Ceremony will be held at the Long Lake Cemetery on May 30th. All are invited. More details will be announced.
Blueline Building
Parks and Recreation is in the process of moving everything stored in Medical Building to the Blueline building. This includes all organization of decorations.
Ads are going out for summer lifeguards and seasonal employees.  Matt Waligora has accepted a full time position and will not be coming back to the rink or the town this summer.
POSTER AND ADVERTISING POLICY – POSTED 7/2022
Town of Long Lake Poster Draft Policy  7/29/2022
For events inhouse or sponsored directly by the Town of Long Lake for Long Lake & Raquette Lake Parks & Recreation events – the Town will design and print the posters.
For outside organizations – The Town does NOT distribute posters for other organizations. The Town will display posters at our offices.
Outside organizations include but are not limited to:
Long Lake Association
Long Lake Fire Department
Long Lake Rescue Squad
Raquette Lake Volunteer Fire Department
Raquette Lake Rescue
Raquette Lake Ladies Auxiliary
Raquette Lake Library
Long Lake Library
Long Lake Lions Club
St. Williams on Long Point
Friends of Music
Adirondack Lakes Center for the Arts
Newcomb ESF
Tupper Lake Arts
Poster Design Policy
·      Organization will be charged a design fee TBD based on hours and turnaround time.
·      Poster must be requested 30 days in advance during summer seasons.  Posters are designed in April/May and sent out to printers for summer season.
·      There is a printing/delivery charge – invoices will be sent out by Parks & Rec Office.
·      If printing is done in house – copy fees will be charged according rates charged by Town
Posters are printed using printing houses via vendors that the Town has worked with in the past. If you have the poster designed and want to use your own printer, you may do so. PDF will be sent to individual organization via email.
It is up to Parks and Rec discretion to work with and scheduling to design posters. This service is available for local community organizations only that have a vested interest in the Raquette Lake & Long Lake Community and on a first come first served basis. If the event serves as a general, public event with limited admission fees that benefits the community as a whole. **
Display Areas-
The Town does have a Locked Display Kiosk on the Long Lake Town Beach for Business promotion. Drop off materials with Cindy Black to be included in the glass display case. First Come first served. When posters fade or get worn out they will be removed.
Parks and Recreation Report
January  & February 2021 Parks & Recreation Notes
Submitted by Alexandra Roalsvig, Director PRT
February 24, 2021
WEBSITE TRAFFIC
Visits to my long lake – see attached stats –Up 19% over 2019/2020  website traffic.
Google Analytics attached ** (4 pages)
Long Lake Facebook Fans  November 28,888 February 29,230
Monthly Facebook Traffic to the page
Raquette Lake Facebook Fans November 6000 February 6158
Monthly Facebook Traffic to the page
Long Lake Instagram – November 9808 Fans  10.7K
·      Long Lake Instagram now over 10K users –SWIPE UP LINK now active.– Links can now be embedded on stories directly to the website, or other social media platforms. This is a huge asset and will be developing more strategic planning on stories and cross promoting the webpage & youtube channel – and more as we progress
GENERAL
·      Met with new Forest Rangers for our region, Melissa Milano & Chris DiCintio – discussed recreation in the region, focused on Cedarlands, needs on our trails and just met to familiarize ourselves with each other
·      Received TRP for plowing Cedarlands Parking Lot – new for season 2021 to encourage more winter users and skiers  – will be working with Highway and Water to have this lot plowed.
·      Cedarlands  – reached out to Forester Steve Gugliemi to ask to have a Cedarlands Easement sign installed at the Gate/Top of the Road/Kickerville as currently there is only a private road sign at the top and members of the public feel like trespassers or lost. Makes it difficult to promote this destination – DEC will be reaching out to Chip, Long Lake Highway to coordinate a location for the road sign.
·      Boil Water Order issued February 9th – assisted Water Department with posters and phone calls to residents and customers – via One Call Now – used the system 3 times. Posters were also distributed in the community.
Snowmobile Trails
·      NYS Parks and Rec announced Grant Awards for 2021 season Long Lake to receive $33,564 – 70% will be available $23,494 immediately. Funds are collected from snowmobile trail registrations in NYS.  This funds 70 miles of trail in Long Lake & Raquette Lake to offset grooming operations – yearly we spend between $65,000 – $95,000 in grooming, equipment, wear and tear, maintenance and labor and fixing equipment. Weather dependent.
·      Repairs on all three machines – this season each grooming machine has had issues and been taken off trails for a few days at a time.
·      INVENTORY Wayne's PB 100 – 2015, Opie Paana 2015, Chads Paana 2010**  3 Skandic Snowmobiles – two are in currently in Raquette Lake for the 7th Lake Mt. Trail. One is currently in Long Lake as backup when groomers are down.
·      1/21. Wayne's groomer was out of commission for almost a week – had to purchase a joystick for $2976 replacement-  Took about a week for part to travel and get back into the machine.
o   Fall out – Skandics were used on narrower trails (7th Lake Mt) – Wider big trails aka Browns Tract, Uncas & Dump Road were not groomed mid-week. Machine was fixed back out on the trail before the weekend of 1/23.
·      Chad's PB Paana 2010 groomer lost a plate holding his two front wheels on Presidents Day Weekend. Had to take day off from grooming mid-week.  Chad fixed it in house and quickly got back out on the trail.  Will order part from Mohawk for permanent fix – pending.
·      Chad's PB Paana 2010 groomer – Hydraulic hose needed replacing week leading up to Presidents day –Day trip to Glens Falls to pick up hydraulic hose. Lost one day of grooming
·      1/29 (Fri) Two trees were reported down on Tamarack lane and on Spillway. NYSEG had to check out both trees to ensure that they were not on live wires, but they couldn't remove the trees completely. Trees were impeding travel for a few mid-week days before they were cleared. Received social media complaints regarding this. Opie & Chad finished clearing them.
·      1/31 thru 2/4 Opie's Groomer PB Paana 2015 – was down for four days- Craig Wamback had to fabricate and weld a section for the back of the groomer as the cover from the back had slid off – the clips had worn off – custom job.
·      2/10 Opie's Axels broke  PB Paana 2015– had to order 2 axles for $1400 each approx. $2800  total in parts. Axels  won't arrive until end of season.
o   Craig was able to weld together a temporary fix to get Opie out on the trail. Opie's groomer was down for four days leading up to Presidents Day weekend. Got complaints from Goodnow Snowmobile Club ** for trails not being groomed. Opie went out on Skandic with drag on days groomer was down.
Please note:  When groomers are down it is noted on the website snowmobile trail conditions and on social media on the Moonlighter's Snowmobile Page and shared on the Long Lake page. If people don't read, what more can I do. I also alert local businesses when groomers are down for more than a few days.
·      ** Having to deal with public has become more time consuming as expectations have climbed, especially with the explosion of social media.
·      2/13 (Sat) Chad PB Paana 2010 Groomer Update – Lost bolt and plate that hold the 2 front wheels on Chads 2010 PB Paana.  Chad made new plate and got a bolt to replace the missing one and head back out to put them on groomer when finished.  Got it repaired and back out in one day.
·      2/18 (Thurs) Opies High Band antenna broke off the back end of his groomer – needs to be replaced. Will hold off replacement until end of season.
·      1/23 Roadsides.  Hamilton County Highway and Long Lake Highway shelf roadsides.  First solid weekend of snowmobiling was January 23rd. While we had decent snowpack, it was still considered "early season" and it took time to build and establish shelves on the roadsides.  It can't always happen magically the first few days of snow. The roads are always rough at the beginning of the season.  – PUBLIC traveling from Newcomb to Town were very vocal in person, on social media regarding our roadsides not being up to expectations.  We just didn't have the crews on weekends to shelve roadsides for that very first weekend.
o   We are running into some "subjective" issues with public because their expectations are higher. There is a disconnect from the expectation of the public and what we can do in a timely fashion.  We work very well with our crews, we have new crews, shorter plow wings instead of grader  to work on the banks.
o   Sidewalks/snow coverage pedestrians vs. snowmobiles ongoing issue.
o   To circumvent negative feedback/pushback, I communicate with our local businesses to get word out early what we are doing, why we are doing it and how long it will take.
§  This is always an issue at the start of the season because our lakes freeze later and later.  Once the lakes freeze the issue tends to subside. Public  expectations & feedback constantly comparing our system to Old Forge and Inlets trail system.
·      This problem is getting bigger by the season.** aka TIME CONSUMING to handle complaints.
§  ** This is a direct result of social media and instant gratification culture. They think our grooming staff of 3 works 24 hours a day like Old Forge. Not saying there's anything pro-active, other than responding to complaints, and engaging with consumer to hopefully avoid more negative comments on the social media pages.
·      GPS – purchased Garmin GPS – as NYS Parks requires all trails are GPS'd in 2021 to still retain eligibility for funding.  Opie's already GPS'd his side, will be GPS'ing Chad's and Raquette Lake trails next. This is a grant eligibility requirement.
Geiger Arena
·      Matthew Waligora hired at Ice Skating Rink Attendant in December. He was the only applicant
·      Due to volume of visitation and expectations of the public, his girlfriend/partner, has been volunteering up at the Geiger on weekends. Maintaining the property and building customer relations has been integral to the growth and usage of that property.
o   Would propose a very part time job weekends and holiday weeks, for a very part time assistant to assist rink attendant. **10-15 hours a week? ** this need has been identified even without food & concessions available at rink.
·      Want board to review specs for new boards at Ice skating rink – can be permanently installed without needed to take down every season -saves money, wear and tear. ** photos and estimate included.
·      Covid Protocols – Those protocols are being followed, contact tracing sheets are being registered and filed daily/weekly and available to Hamilton County Health if needed. .We had two positive covid cases at rink in December, luckily no community spread from either. Masks are required inside and outside at all times.
WEBSITE
·      Met with ROOST to discuss working with them directly on re-build of website -cost savings to the town – pending another meeting and timeline.
·      2nd meeting upcoming to review strategy on how to start the build out of the new website
·      Our office/Tim is saving all web content so it is preserved and can be reuploaded to new website.
·      Updated Blog Posts for Covid-19 Public Health – it was daily, including weekends when there was an uptick over holidays.  The updates are slowing down to a couple a week, as vaccines ramp up.
·      Blogs posted about Raquette Lake Fishing Derby, Winter Wonderland Week activities and updated Snowplowing Business list.
Events
·      Raquette Lake Ice Fishing Derby – sponsored by RL Fish & Game Club – Long Lake Parks and Recreation ordered winning plaques.  This was a successfully organized event, we thank Lynn Coffey, Karen Lamphear, Michael Lamphear for coordinating this and volunteering for this event.
·      Raquette Lake Winter Carnival "Lite"– all traditional events were canceled except for Fireworks and Sledding. It was advertised locally as having seen the influx of tourists to Saranac Lake Winter Carnival, the decision was to keep fireworks promotion down to a dull roar locally to thwart virus risk.
·      Winter Wonderland Bingo- a new event for February highlighting outdoor recreation and local businesses to get people out and about in our two communities and also to share their activities with others on social media. This promotion is ongoing until Feburary 28th and there will be prizes.  $5 gift cards and if the entire card is completed, entry for a Grand Prize Gift Basket.
·      Hiking/Paddling Bingo Challenge – now being developed for release in June 2021. Will be producing a card and brochure for summer season to promote our outdoor recreation.  It's different than a traditional challenge ala the Triad, 6er and High Peaks.  –It highlight hikes recreation in both Raquette Lake and Long Lake –This is a Covid friendly / family activity and regional promotion.  Will be reaching out to DEC to highlight the trails / hikes/paddles we plan on promoting as they've asked us to reach out to them so if they see an "uptick" in any trail usage, they are ready for it.
Mountain Bike Trails
·      RFP for Mt. Bike Trail Build out slated for 2021 – pending opening bids. To be awarded.
Covid-19
·      Vaccine roll out is underway.  Parks and Rec has helped coordinate with Hamilton County Public Health & Doc Riders Office and Office of the Aging to maintain a log/list of eligible people in Long Lake/Raquette Lake for Covid vaccines for 65+, 1a and 1b, and co-morbidities. In house we are assisting with on-line registration for seniors and for local clinics. We act as a funnel for info and share with Hamilton County Public Health and making sure the public is informed.
·      316 Long Lakers have been vaccinated 64 Raquette Lakers Vaccinated
·      With recent uptick of Covid-19 in the county in December/early January the Public Health Website page under About Us was updated daily as Hamilton County Public Health Provides updates ** (as it has been updated all along during the pandemic)
o   https://mylonglake.com/our-town-government/public-health/
Grants
·      Applied to Generous Acts in collaboration with Hamilton County Soil and Water via the Lake Champlain/Lake George Regional Planning Board for a grant for the Buck Mountain Fire Tower to refurbish a trail and firetower.  Pending award announcement – applied Feb  2021
·      Decentralization Grant, Adirondack Lakes Center for the Arts– Applied for a grant to fund an Irish Band that was scheduled for 2020, but was derailed due to covid.  Pending Award announcement Applied Jan 2021
Summer
·      Plans are underway to re-boot Music by the Lake Concert Series, Friday's on the beach
·      Summer Youth Program pending updates from Newcomb  – Little Bus Driver? Working with school
·      August Craft Fair, August 1st -Applications going out early March
·      Farmer's Market – continuing in 2021 at Mt. Sabattis
·      90 Miler is pending in September with partnership with Northern Forest Canoe Trail
·      Pavilion Usage – Church has requested use for Sunday's in summer. Need to review Summer Weddings / Public Events– as rules have opened up, but require coordination with Public Health and testing. We have not booked any weddings, due to Covid . Will review with Clay as requests come in before making decision.
·      Building Usage – we are still requiring Safety Plan for all building usage requests. We have not opened up building usage to the public yet. Waiting for more guidance from NYS.
Mt. Sabattis Projects
·      Skateboard – there has been interest in community to build skateboard ramps. Brian Penrose has volunteered and offered to build ramps for temp installation.  Trish Hosley has offered to be a community coordinator between students and town.  Suggestion is to stage skateboarding summer park on the Ice Skating Rink surface
·      Dog Park – review and establish a dog park on Mt. Sabattis
Beach
·      Lillian Dechene is confirmed to come back as head lifeguard. Offers are out to Jack Skiff, Jenna Stiles to return – pending answers and recertification.
·      Concerned about the availability of lifeguarding recertification classes etc, but hopeful there will be Red Cross classes offered this spring.  Not sure if DOH beach regulations will be lifted for summer 2021 and if we will still need a beach monitor. Everything remains up in the air.
·      Summer Camps look like they can be reopened this summer. This is great news for LL Camps and Raquette Lake Camps.
Comprehensive Plan
·      Develop and adopt Implementation Committee ** aiming for possible March or April adoption? See Draft Notes provided by Carl. Attached.  Recommendation would be to simplify this draft document greatly before moving forward with adoption of Implementation committee.
Calendar Listing Policies for mylonglake.com/calendar
Calendar Listings for Long Lake & Raquette Lake
The Town of Long Lake and Raquette Lake are iconic, rural, small town Adirondack destinations in the central Adirondacks.
The Long Lake/Raquette Lake Calendar-of-Events is located online and is an essential tool for visitors planning vacations in the Adirondacks.
Non-profit organizations located within the vicinity and geographic drive-able area  stretching from immediate neighbors including: Newcomb, Tupper Lake, Blue Mountain Lake, Raquette Lake are often invited or ask to be included and to share events with on the mylonglake.com/calendar.
Benefits – Visitors traveling to the region have a more enriched experience. The economic activity generated from travelers moving from community to community has a positive economic impact on the towns, as traveling visitors spend at restaurants, retail operations and convenience stores, gas stations, giving them more opportunity to spend their vacation dollars in our local communities which spurs on more sustainable, local economic growth.  This is especially true during the summer months with the volume of traffic is substantially high and is 95% of the tourism traffic throughout the year.
If there are no other local competing events on the calendar at the time of the request and there are no other events listed that would be competing on the dates included, the Parks, Recreation & Tourism department will include listings on the calendar in the order of which they are received and if time permits.
This is an effort to communicate a robust activity calendar and give visitors and residents one location to seek out tourism and local event information that will enrich their stays while in the communities of Raquette Lake and Long Lake.
All submitted events are subject to review and approval by the Director of Parks, Recreation & Tourism.
Please note:  Events submitted by private businesses are included only if they are open to the public and are located and operating in Long Lake or Raquette Lake Town Boundaries.  All events subject to review. In the summer months due to the volume of private events, those listings are limited, but are available on a case by case basis. If it is a large-scale event, that will appeal to a wider audience, that is not a "routine" operation that is carried out daily/weekly by the business, it is eligible to be listed
Events that are created and shared on social media platforms will be prioritized and re-shared on the Long Lake Facebook page and Raquette Lake Facebook page – if they are created as "Events" This will assist Parks, and Recreation Staff to minimize the time needed to communicate changes and update multiple locations on the website.
Please note in the Shoulder Season (anything not summer) private businesses are encouraged to create and share events to be included on the community events calendar.
All submitted events are subject to approval and review by the Town of Long Lake, Director of Parks, Recreation & Tourism.

November 2020 Parks & Recreation Notes
Submitted by Alexandra Roalsvig, Director PRT
WEBSITE TRAFFIC
Visits to my long lake – see attached stats – generally the traffic slows down after July/August – this is still the trend, but we are still up 34% over 2019 website traffic.
Long Lake Facebook Fans 28,888
Raquette Lake Facebook Fans 6000
Long Lake Instagram – 9808 Fans
GENERAL
·      GRANT SUCCESS! Pomeroy Foundation – All 5 Grant Letters of Intent approved by Pomeroy Foundation.  – ALL GRANTS WERE FUNDED/AWARDED FOR A TOTAL OF $5700 – See attached info** Signs are ordered.
·      Cindy reached out to National Grid – in Raquette Lake – for permission to put decorations on light poles  – pending final approval
·      Town & Hamlet Holiday Decorating underway – snowflakes on light poles in Long Lake. Decorations planned for Raquette Lake with Kat Forsell at Post Office, Library, School – pending. Cindy still working with National Grid to gain permission for installation of three lit snowflakes on the poles
·      Holiday Lighting Contest planned for Long Lake & Raquette Lake. Prizes for business & residential
·      Lunch with Santa has morphed into Santa Delivers Presents with the Long Lake Fire Department. Parks & Recreation is purchasing presents for the kids and the Fire Department will be escorting Santa on December 12thand delivering in person.
·      Trivia was held at the Adk Hotel with 10 people playing. 2nd Trivia night canceled due to uptick in Covid cases in county and feedback from participants not comfortable being out.
·      Screening of Huck Yeah at Long View Lodge had about 25 guests in the dining room.
Town Dock
·      Long Lake Town Dock & Beach Docks were moved and stored for the winter with special thanks to the Water Department for the assist
·      Raquette Lake dock was moved and stored week of 11.16 – Michael Lamphear spearheaded that. Thanks Michael.
Beach
·      Beach is decorated for Holidays
·      Adirondack Park Institute installed Bench dedicated to Bill and Abbie Verner
Snowmobile Trails
·      Replaced culverts installed on Power Line Trail, and Tupper Trail. Bridge completed on Newcomb Trail – also had to divert some water damage by a busy Beaver on the Tupper Trail. That dam continues to be monitored, efforts to re-route water are currently holding
·      Old wornout bridge was torn up on power line trail – worked with Tree Cutting company to coordinate that effort to mitigate damage.  Culvert is replacing the bridge.
·      Developing/renewing of Long Lake/ Raquette Lake kiosk Snowmobile Trail Map using ROOST Map, coordinating with area towns – map art completed – having weatherproof maps printed and will be located on all 8 kiosks that go out in and around the trails
·      Had meeting with Speculator, Indian Lake, Inlet, Newcomb, Old Forge. Re. snowmobiling protocols for Covid-19. Reached out to local businesses to find out if they had plans
Geiger Arena
·      Matthew Waligora hired at Ice Skating Rink Attendant start date 11/30
·      Will install boards first week of December
·      Pending for opening rink – NYS ESD Guidelines,  Covid-19 Safety Plan, outdoor benches 6 feet apart, need to order firewood, bathroom protocol, max number of people in building, closing all food service, sanitizing shared skates, rules on skates – looking up Bowling Alley Rules – more info pending.
WEBSITE
·      Developing RFP for new website update/build out
·      Working with website coder to update back end of website for ADA compliance
Past Events
·      Open-Air Market – at Farmer's Market Location October 10, 2020 – Town Event – good turn out – 10 vendors – ended early due to weather.
·      Pumpkin Rolling Event October 10th – outdoor at Mt. Sabattis – Town Event. About 25 children participated. All social distancing measures were in place
·      Ski Movie – partnership with Long View Lodge  – Huck Yeah – 25 people attended
·      Trivia returned in October but stopped for November due to County Covid uptick and response from public. May move this to zoom in December
·      Photo Contest for Social Media for Long Lake & Raquette Lake – ongoing until September 30th over 102 assets submitted – Winners were announced, photos printed and sent to winners, winning photos on display at Adirondack Hotel & RL Tap Room
·      Halloween in Raquette Lake and Scarecrow Contest was successful
Pending Events
·      Lunch with Santa transformed into partnered event with Fire Department
·      Long Lake PTSO working on a Scavenger Hunt for Thanksgiving activity
·      Winter Carnival – Fireworks and Ice Carver have been booked – Date is January 16, 2021. Not sure what restrictions are in place, but we are in the process of developing re-vamped plans/schedules etc to accommodate reduction in crowd size. Will work with Public Health to make a determination on that as we move forward. Input welcome.
·      Business support – developing a marketing strategy to promote local businesses following the Stay Local/ Shop Local promotions for holidays.
Mountain Bike Trails
·      RFP for Mt. Bike Trail Build out slated for 2021
Comprehensive Plan Update
·      Held Public Presentation on Zoom – Plan has been sent out. Lead Agency designation can now move forward with the Board slated to review the EAF and make a SEQR determination
·      Public comments being accepted by emailing alex@mylonglake.com
·      Comments are posted on website at www.mylonglake.com/comprehensiveplan
·      There are public copies of the plan available to be borrowed at the Long Lake Town Office, Long Lake Library, Raquette Lake Post Office and Raquette Lake Library.  The copies at the libraries cannot be checked out.  Please submit comments in writing to alex@mylonglake.com
Safety Committee
·      Barbara Taylor, Town Safety Officer,  led the yearly Safety Training workshop on Zoom – for Covid-19 reduction of in person meetings
·      Workshop video is posted on town website for review by any staff, & elected officials unable to attend on-line workshop.  Attendees are required to print out a copy of the attendance sheet and submit to the Town Offices so safety committee has final head count for participation.
·      All new hires are required to watch the Safety Training video.
·      Alex edited and posted the safety training video immediately following safety training on November 6th including downloading, exporting, editing and uploading final project. Video is posted as an unlisted link on Long Lake Youtube channel and linked to the safety web page. Link to video was forwarded to town staff, elected officials under direction of the safety officer – so it could reach all of the town staff efficiently. All employees have been asked to watch training by November 30th. Department heads must follow through with their staff to ensure everyone has seen the video and has filled out the required paperwork forms and submit printed attendance sheets to town offices.
Covid-19
·      With recent uptick of Covid-19 in the county the Public Health Website page under About Us is updated daily as Hamilton County Public Health Provides updates ** (as it has been updated all along during the pandemic)
o   https://mylonglake.com/our-town-government/public-health/
Proposed Social Media Policy Draft September 2020 ** Pending Review and Approval


Social Media Policy – Draft Policy September 2020
A strong social media presence is part of a robust communication strategy. Using jobsite photos and humorous videos shows and humanizes the good works we are doing in the community while also informing the public about what is happening in the community. This is a springboard to enhance relationships, build trust and tell rich stories about our community.
Using social media can inform the public about road closures, department activities, and keeping the public quickly informed of department activities. Builds awareness as to why tasks are completed in certain ways. It increases transparency, enhanced community trust.
Best Practices Have written social media policy posted on profile on how to moderate aggressive, abusive, profane or deceptive commentary.
Proposed
Social Media Policy:  The Town of Long Lake welcomes your opinions and encourages open discussion. If we become aware of messages or posts that contain advertising or appear off-topic, use offensive or inappropriate language, are intended to defame, infringe someone's rights, or are a violation of law, we reserve the right to remove them.
The intended purpose of the Town of Long Lake's social media sites is to serve as a mechanism for communication and promotion between our Parks, Recreation and Tourism Department and Long Lake and Raquette Lake Tourism Brands and local businesses and members of the public. Social media articles and comments containing any of the following forms of content shall not be allowed:
Profane language and content
Content that perpetuates discrimination on the basis of race, creed, color, age, religion, gender, marital status, status with regard to public assistance, national origin, veteran's status, physical or mental disability or sexual orientation
Sexual content or links to sexual content
Encouragement of illegal activity
Information compromising safety or security of the public or public systems
The Town of Long Lake reserves the right in its sole discretion to restrict or remove any content that is deemed in violation of this policy or any applicable law, rule or regulation.
Enhanced Web Prescence:
The Town of Long Lake operates a tourism office which also facilitates and promotes businesses in the community.
As the Town of Long Lake is limited by staffing and manpower to manage the 24 hour social media cycle, it reserves the right to select and share content from local businesses and organizations as it becomes available.  Businesses that promote using photographs and tags using the #mylonglake  or #myraquettelake hashtag will be prioritized in terms of relevance, timing, and metrics as outlined below.  Posts shared after traditional business hours may not be reviewed until the next available business day. Long Lake reserves the right to schedule posts in advance.
Cross promotions can be used in stories on both Instagram and Facebook. These posts will be shared at time convenient to the Town of Long Lake Tourism Department, but not limited to specific hours of the day.
Businesses seeking  greater exposure, to include a logo and preferred listing order, may see an "enhanced web presence."  if they share content tagged with #mylonglake or #myraquettelake.
Businesses who work with the town on a consistent basis and are responsive to promotion offers and calls to actions may be given preference for showcasing media, but this is not a guarantee content will be shared immediately.
For the most effective social media promotion, the TOWN highly recommends providing a link to relevant information.
GOALS:
Our goals are to clarify communications, increase public relations and achieve awareness of our community, our businesses, local organizations, brand and to form partnerships with organizations, all businesses, not just tourism-based businesses. There is an opportunity available to anyone interested in cross promotion to be listed and share content on Town managed social media pages.  Our goal is to grow our relationships with all spectrums of the business community.
The following pages are managed by the Town of Long Lake.
www.facebook.com/mylonglake
www.facebook.com/raquettelake
www.instagram.com/mylonglake
https://www.youtube.com/LongLakeTourism
Content Calendar and Post Quality Metrics
The Town of Long Lake utilizes apps including Later.com and Crowdriff to curate and automatically collect high quality content to share and schedule on social media pages. Posts and content are then sorted by tags, relevance and quality. If posts don't meet certain quality measures it doesn't appear in the automated collectors used to generate posts. If posting content with a lot of text or only text, even if it is tagged with location and #mylonglake it may not show up in the collector as social media automatically limits posts with abundant text. Our collectors are set by third party applications to collect content. Long Lake Parks, Rec and Tourism Office does visit and review the newsfeed and will repost content when it's active, relevant and available.  It will be reviewed and seen more efficiently when content tags are used.  #mylonglake #myraquettelake
Businesses and organizations are also welcome to and invited to email content as a jpeg to longlake@mylonglake.com
Determine your value.
In terms of how Long Lake Parks, Rec and Tourism evaluates content for posting?
It needs to meet standards as outlined above.
Businesses can internally review how to move forward in a continued robust relationship with Long Lake social media marketing.  This policy is reviewed and updated as the social media evolves and all policies are subject to change without notice.
Businesses are also encouraged and invited to submit content to Hamilton County Tourism social channels managed by ROOST (the Regional Office of Sustainable Tourism) email katie@roostadk.com with content.
Recommendations for businesses to consider in having a robust, positive and engaging relationship on social media platforms –
What will you bring to the conversation?
How do you fit into your community's life?
Will you be a community events aggregator, problem solver or something else?
The Town of Long Lake does automate posts across multiple channels and will also build out special posts when unexpected surprises happen, such as sunsets and other newsworthy events.
For questions inquiries, concerns or suggestions on how to manage this social media policy you are invited to reach out to the Long Lake Parks, Recreation and Tourism office at 518-624-3077.
Please note: Due to Covid-19 and the reopening, we ask for patience and understanding as we get back to the business of promoting of our community.
2020.02 Parks and Rec Report
Raquette Lake Winter Carnival
60 Ladies Frying Pan Toss – many spectators
6 teams of 4 for Golf – 24 participants
26 people participating in cross/cut/chainsaw on Sunday – many spectators
Winter Wonderland Week
Sat – 80's Ice Skating Party – 40 participants
Tues – Bubble Guy –  27
Wed – X-C skiing Cedarlands – 4
Thursday – Oak Mountain – 16
Kids Movie Night – 25
Friday – Hors D'Oeuvres Tour – 55 people – 3 venues – $1700 revenue collected and split to Long View Lodge/Adirondack Hotel & Long Lake Diner – participating businesses ** Used the Town of Newcomb's Little Bus for this event as a 2nd bus to transport guests.  No charge.  Shared services
Snowmobile Trails –
Bootie Bush groomed Newcomb Trail for Long Lake 2x –
Chad has been rotating his groomer between his side of town and Opie's side of town as best as he can
Opie has been using Skandic & Drag to groom his trails – followed up by Chad
2016 Pisten Bully Paana Groomer
Currently at Mohawk for servicing
Acceleration is impacted.  Can run machine for approx. 10 minutes at 2000 rpms and then it drops down to 7rpm.  Turning it off and waiting 10 minutes and then grooming could continue. After assessing machine and cleaning/changing air filters/checking gas lines etc – in house, we sent groomer to Mohawk on Friday Feb 14th
Had to order a part at a cost of $3200/computer board but it didn't fix machine – so we will be returning that part.** subject to change
Mechanics surmise it is either acceleration/gas pedal or electrical and are still assessing – haven't determined source of faulty acceleration.
Michael Lamphear – groomed 7th Lake Mt. Trail before Presdients weekend, opening that trail up – and keeping all roadsides shelved and groomed
Ham Co Highway & LL Highway have worked diligently to keep shelves banked weekly for weekend traffic.
RL Grooming. Wayne has been grooming 2x a day morning and afternoon, keeping up with volume and demand.
Parks & Recreation Revenue January 2020
$23,000  – 70% Snowmobile Trail Grant ** pending direct deposit
$1100 – William Pomeroy Foundation – Grant Award for signage for LL Beach
$14,000 – Quilt Camp/Hors D'Oeuvres Tour Revenue in January to offset cost of events
$2350 – Decentralization Grant Award** pending offset Music by the Lake Summer Event
Upcoming
Leap Year Bus Feb 29
Adult/Child Fishing Derby March 7
Bang Brolly Concert St. Patricks Day March 15
Eat ADK April 30th  – March 7th