Swimming exhileration, next level!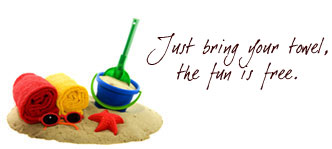 Swimming in the waters of Long Lake is a must for every summer vacation.  Long Lake boasts the best beach in the Adirondacks with unsurpassed views of the Seward Mountain Range.  A swim dock boasting a mini-trampoline, slide and rope swings.
Red-Cross certified lifeguards on on site daily to surpervise swimming from 10 a.m. to 6 p.m. daily.  Free swimming lessons by a WSI certified instructor are also available.  But don't just take our word, dip your toe in, the water's fine!

Hours – Open Wednesday – Sunday. Closed Monday/Tuesday. 10am – 6pm
Exceptions:  The beach will be Open at NOON on Tuesday, July 4th until Darkness! Please note the guards will be at the 4th of July games on the Ball Field at 10am
Rope swings, a trampoline, and slide to get your adrenaline pumping. Swimming lessons are offered starting first week of July through August. Red cross certified lifeguards keep a professional and watchful eye on the water. Pass a swimming test and garner ultimate status and permission to use the dock. Just remember, follow the rules. If you use the rope swings you must let go. One person at a time on the tramp and no running on the dock. Sorry no doggie paddling to the dock. Only strong swimmers permitted to the dock.
Don't worry, the lifeguards will be happy to assist you better your strokes and get you swimming strongly out to our float in no time.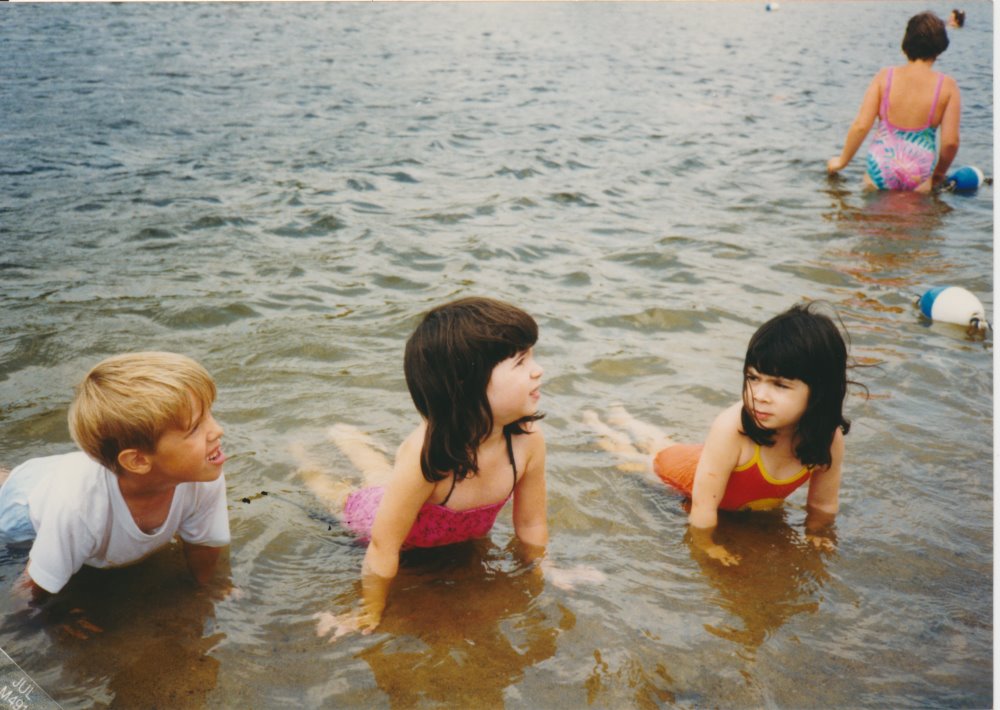 Sign up for Long Lake Swimming Lessons with Maria Inserra is now underway.
Lessons start on Wed July 12th 10am – 12pm. Call 518-624-2380 or stop by the beach at 1258 Main Street, Wed-Sunday to sign up in person.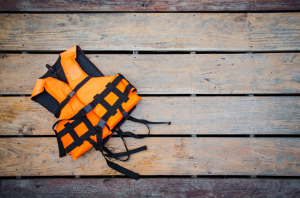 Floatation Devices.
The Town of Long Lake will permit COAST GUARD APPROVED Floatation Devices ONLY in the buoyed designated Kiddie Area of the Town Beach ONLY.  There will not be floatation devices permitted beyond the buoyed area.
Why not beyond the buoy's?
Long Lake Beach has two designated areas for swimming. The kiddie area is a shallow section is for beginners and very young children.
Only strong swimmers who comfortably pass a test are permitted to swim in the deep end and to the swim dock but they will not be permitted to wear a floatation device beyond the Kiddie Area.
Please note: In areas where lifejackets are not permitted are for the following reasons.
-Life jackets provide a false sense of security by allowing a non-swimmer to enter an area that is too deep causing panic and possibly disaster.-Without the flotation device(s) the attending adult will stay with the child.
-A non-swimmer would have a difficult, if not hazardous, situation attempting to regain buoyancy in deep water after slipping off, or out of, the flotation device(s).
-Use of Floatation Devices places a burden on the lifeguard, distracting from his/her guarding duties, to inspect and make sure that all straps and other devices are secure on the person entering the water.
-If one individual is allowed a flotation device, then everyone must be permitted to use one, and not everyone has "approved" equipment.
According to the Coast Guard's website, life vests should be worn to prevent drowning, but can be useless if not worn properly.
Children panic when they fall into the water suddenly. This causes them to move their arms and legs violently, making it hard to float safely in a PFD (personal flotation device).
A PFD will keep a child afloat, but may not keep a struggling child face-up.
For questions or concerns regarding the Town of Long Lake's Floatation Device policy please contact the Long Lake Town Supervisor at 518-624-3001

Town of Long Lake Beach Rules
Contact Town Supervisor at 518-624-3001 for any questions
In the event of an emergency – Call 9-1-1 and address is 1258 Main Street.
Welcome to the Town of Long Lake Beach. Our designated swimming area is approximately 28 yards with a minimum depth of 1 foot and a maximum depth of 15 feet.
Swim Dock Rules
All swimmers accessing the main swim platform at the Long Lake Town Beach must be capable of swimming on their own, without the aid of a floatation device. Swimmers must demonstrate the ability to swim using a designated swim stroke and have the capability to swim 50 yards to access the far swim dock. Approved swim strokes include: crawl, side stroke, breast stroke, back stroke, butterfly. Strong swim strokes do NOT include the doggy paddle. Our Long Lake certified beach lifeguards will assess the swimming abilities of each swimmer and determine if the swimmer is strong enough to go to the swim dock platform.
Lifejackets/PFD's are NOT allowed to be used to access the main swimming platform or deep water beyond the designated shallow water area.
Only properly fitting U.S. Coast Guard approved lifejackets and flotation vests are allowed in the designated shallow swimming area at the Long Lake Town Beach. Anyone who chooses to wear a U.S. Coast Guard approved lifejacket or flotation vest must remain in shallow water area and must also have an adult in the water within arm's reach at all times. Lifejackets shall never be a substitute for adult supervision. No other flotation devices are allowed, including but not limited to: water wings, noodles, inflatable rafts & toys.
There will be no life jackets or floatation devices permitted beyond the designated children's shallow swim area
All the rules are applicable to all swim bathers unless the patron is seeking an accommodation under the ADA, Americans with Disabilities Act. If you are seeking an exemption under ADA please let our lifeguards know and accommodations will be made.
We have four docks. The two docks that are on the shoreline and diving is NOT permitted from those two docks directly adjacent to the shoreline.
Diving is permitted from the two Swimming Far Docks in the deeper end of the designated swim area. There is a slide, mini trampoline and rope swings. People using the mini-trampoline should not exceed 150lbs. When using ropes, swimmers must release and  let go in the water. Swimmers may not "swing" back and forth over the dock.
There is no swimming permitted when lifeguards are not on duty.
Swimming area will be cleared when thunder and lightning storms are in the area.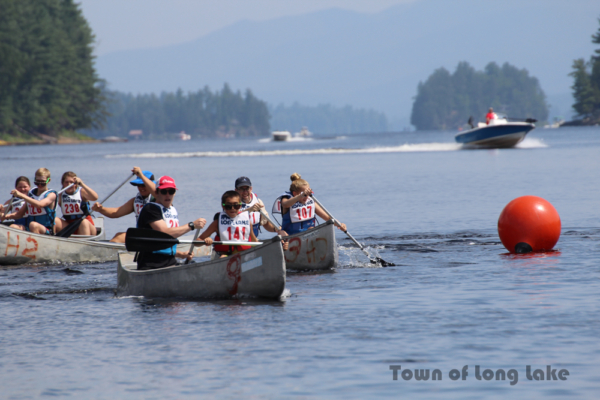 The Paddling Olympics are held on the 4th Friday of every July and hosted by the Long Lake Association. For all youth.  These free races are a great place to develop traditional paddling skills, compete in Stand Up Paddling, and fun races.  No experience necessary.
Events include Canoe Races, Hand Paddling, Back Paddling, Four -Person Relay, Stand Up Paddle Board Races, Kayak Races, Kayak Back Paddling and Canoe Tug-O-War. The Long Lake Lions Club will be on site serving up Hot Dogs, and Sausage and Pepper Sandwiches. There will be awards and recognition.
Participants in the past include visitors who have no experience paddling a watercraft and it's a great way to learn a new skill and find a fun new activity while on vacation.
Novice Paddler? Don't worry we have paddle expert, Caleb Davis the night before the event to teach the kids what to do. Kids that participate receive a coupon for an ice cream cone!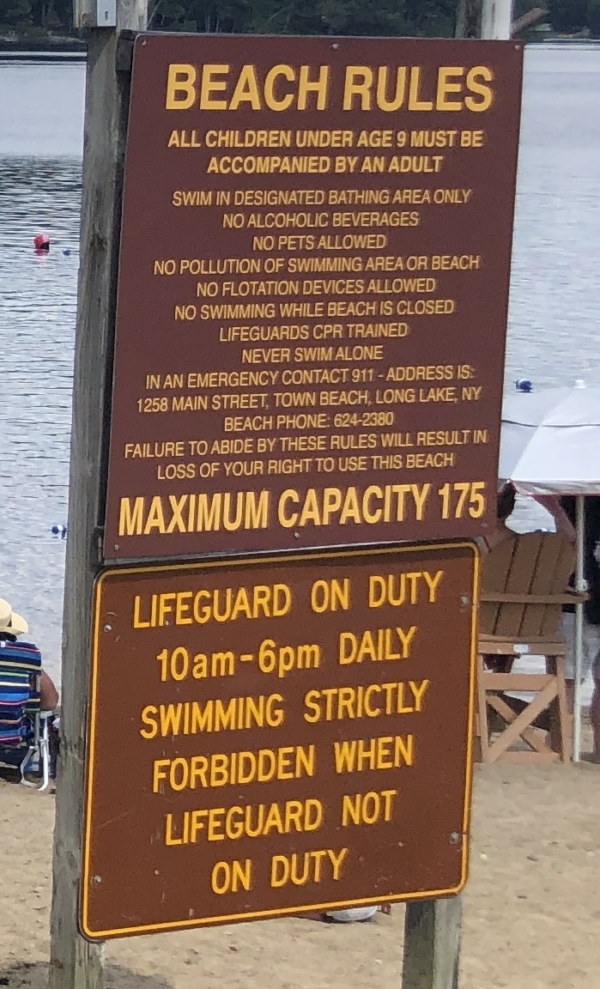 Beach Rules.
All rules subject to change without notice.
All Children must be accompanied by an adult.
Swim in designated bathing area only
No alcoholic beverages permitted
No pets allowed
No pollution of swimming area or beach
No floatation devices allowed
No swimming while beach is closed
Lifeguards CPR Trained
Never Swim allone
In case of emergency call 9-1-1
1258 Main Street Long Lake, NY
Beach Phone 518-624-2380
Be friendly, be kind.
Failure to abide by these rules will result in your loss of your right to use this beach.