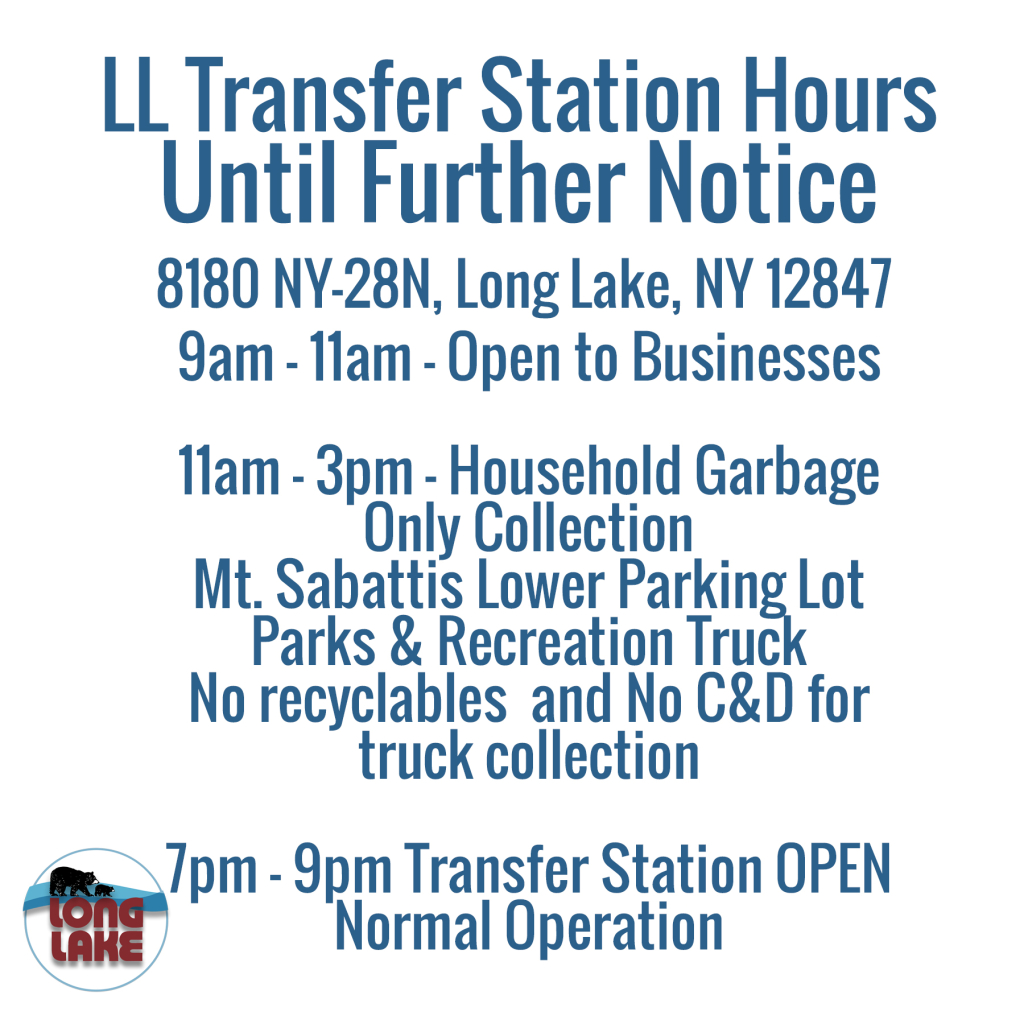 ANNOUNCEMENTS for Friday, July 28th
Household Garbage collection continues on Friday from 11am – 3pm at Mt. Sabattis Lower Lot and 7pm – 9pm at the Transfer Station for garbage & recycling. Must have a Transfer Station Permit
Music by the Lake – Yacht Lobsters is HAPPENING on Friday, July 28th 6pm – 8pm on the LL Town Beach. Yes.. lobsters and Buttery Rock n Roll!
The Tempest, An Adirondack Lakes Center for the Arts Production will be performed at the Mt. Sabattis Pavilion on Sunday, July 30th at 7pm. It's FREE! Co-sponsored by the Town of Long Lake.
Battle of the Cones between Custards Last Stand and The Park in Long Lake is ON! VOTE for the best! Link Here to vote https://www.commoninja.com/brackets/lp/474de8ac-04d5-4597-aa6b-c923c7807d7a
Long Lake Town Beach Hours OPEN Wed – Sunday 10am – 6pm
We miss our friends in Discover Newcomb, NY. Located in The Adirondack Park and we can't wait to re-connect, looking forward to our reunion! SOON!  The clock is ticking! As soon as we know more details about 28N reopening we'll tell you! But please hang tight!
Thank you to our road construction crews. They work long hours and are cranking thru some crazy logistics to get our roads built, so thanks!
Road information as of Friday, July 28, 2023 1:41pm
Route 30 from Indian Lake/Blue Mt to Long Lake and Tupper Lake is OPEN
Route 28/30 from Indian Lake to Blue Mt. Lake to Raquette Lake to Inlet & Old Forge is OPEN
Route 28N (note the N) is closed between Newcomb and Long Lake.  We are waiting for announcement regarding the reopening of the Fishing Brook Bridge – PLEASE BE PATIENT. We are ALMOST there!
Detour to Newcomb along 28N thru North Creek to Minerva to Newcomb
North Hudson to Newcomb along Blue Ridge Road is OPEN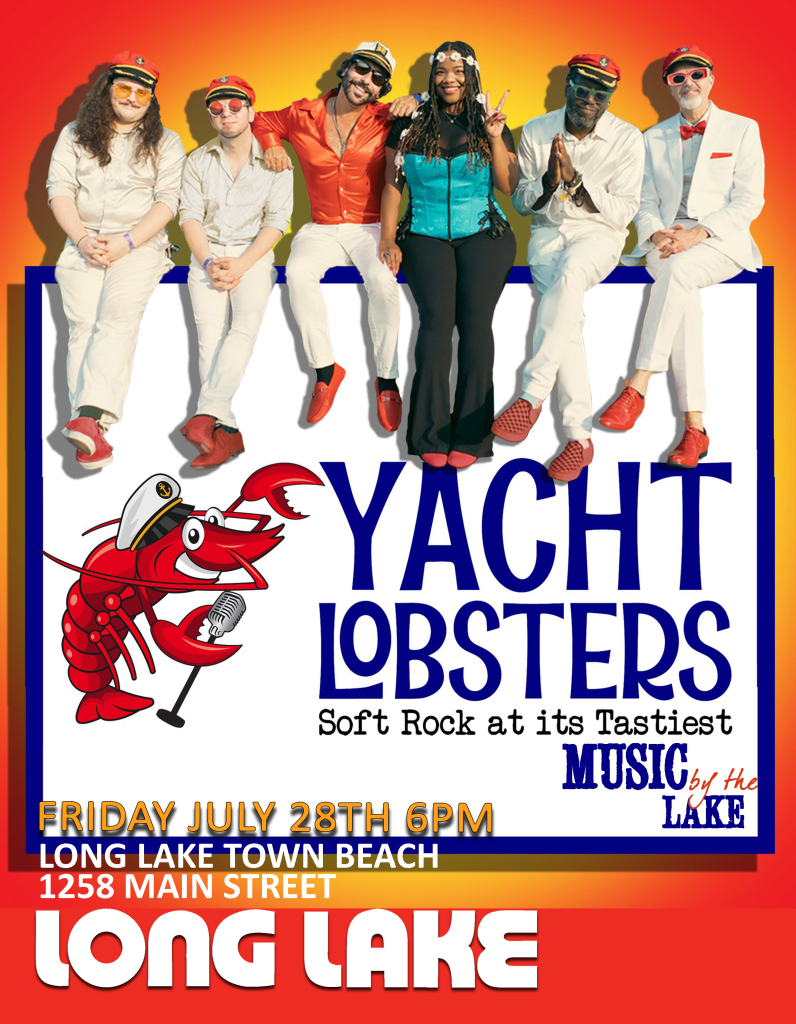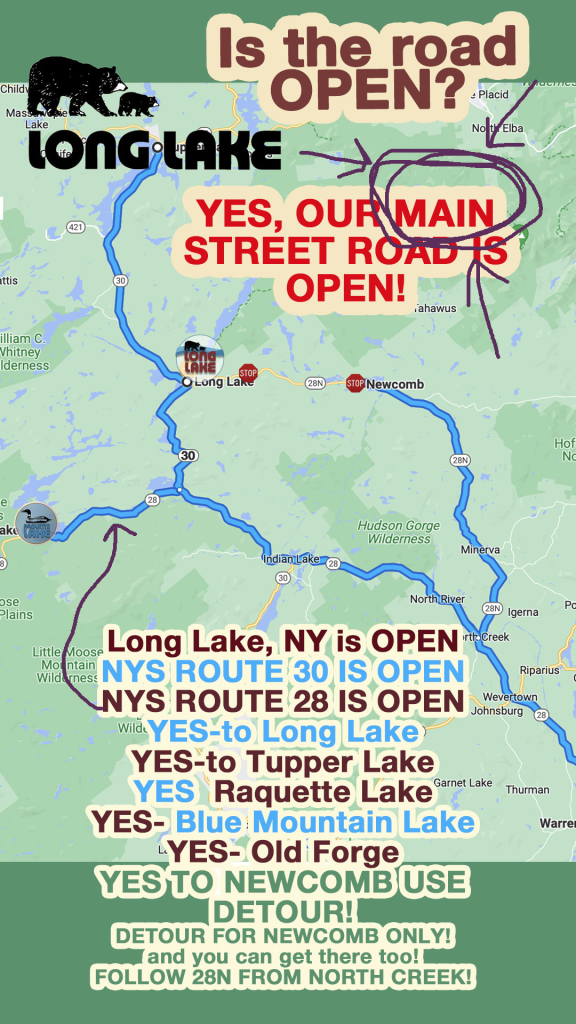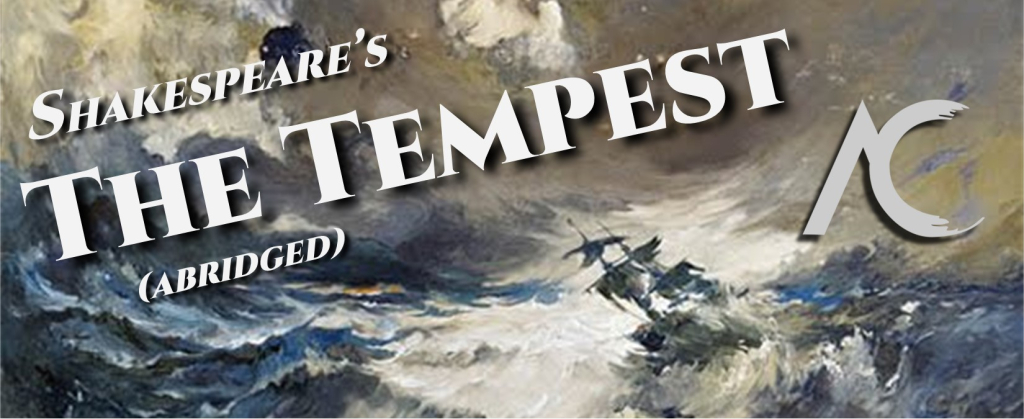 Mt. Sabattis Pavilion, 46 Pavilion Rd, Long Lake, NY 12847, USA
7pm. Mt Sabattis Pavilion.
Shakespeare in the Park performs The Tempest at the Mt. Sabattis Pavilion sponsored by the Adirondack Lake Center for the Arts and the Long Lake Parks and Recreation Department. Free to attend.