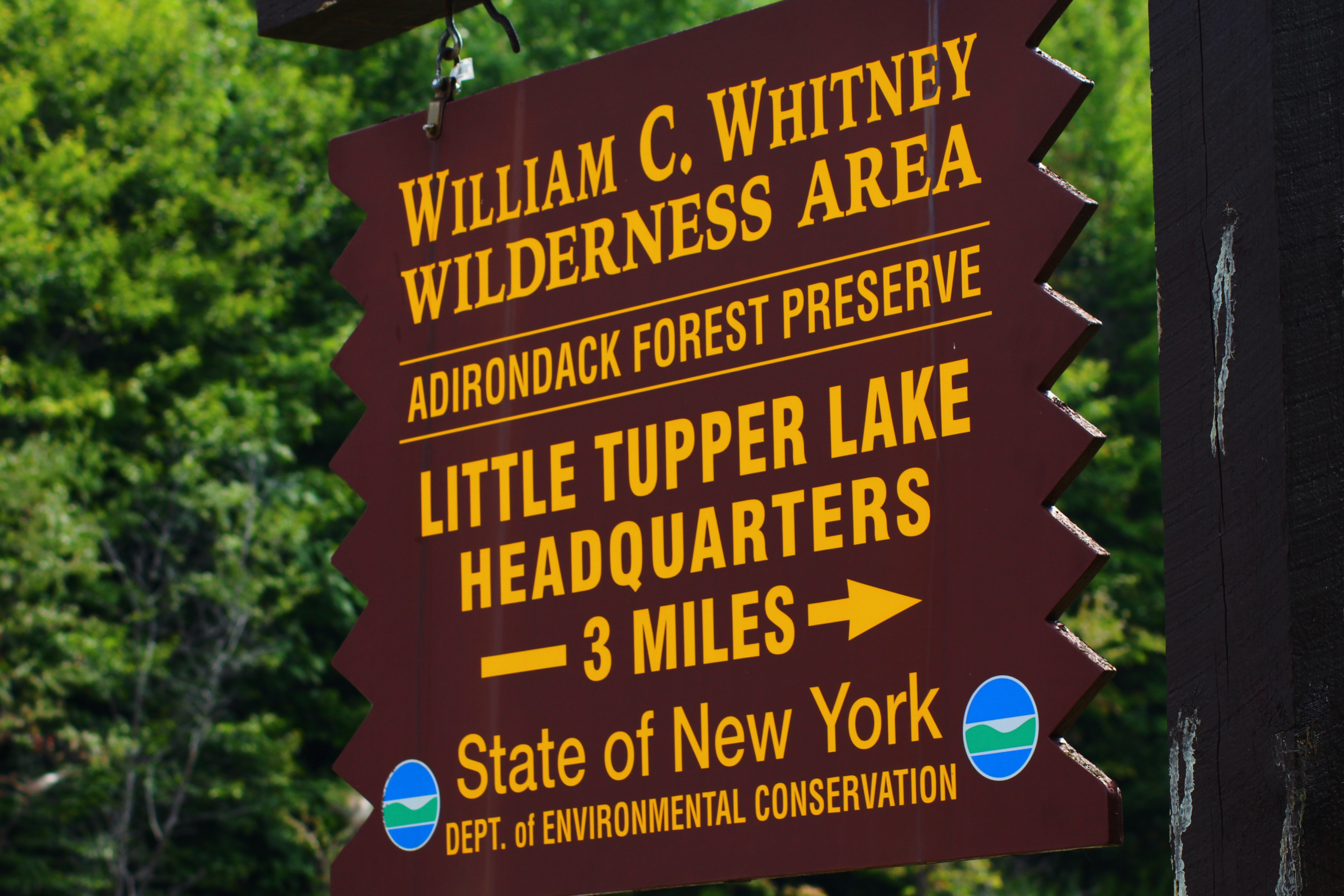 1. Frederica Mountain, Lake Lila (M) – 4.5 miles one way. From parking area, hike along Lake Lila Road for 3.2 miles or launch a boat and paddle to the trailhead. Frederica is 1.4 miles moderate hike up. Expect a daylong outing if you do this combo trip. Trailhead access located off of Sabattis Road.
2. Burn Road (m) – Access north shore of Little Tupper Lake. Trails branch off to interior waterways, including Rock Pond. 13.5 mile trail system utilizes logging roads. Trails are overgrown and beaver activity has caused washouts. Be prepared!
3. Stoney Pond Road Trailhead (M) 4 miles. This trail heads west along the south shore of Little Tupper Lake and ends at two separate camping areas.
4.  Round Lake Trail/Hedgehog Pond Trail (E) – 2.1 one way. Trail starts at a yellow gate on Sabattis Circle Road north. Approx 0.4 miles north of intersection. This is a Conservation Easement. Once through the gate, you will see signs and red trail markers. Keep following the trail until you reach gate to Round Lake Wilderness Area. This trail will take you to a campsite on Round Lake, great for a picnic. This lake also offers 11 designated campsites along the shore.
For many people, the William C. Whitney Wilderness is known as a premier paddling destination. There are over fifty designated campsites to choose from. A 13.5-mile foot trail system utilizing former logging roads provides hikers the opportunity to access many of the waters and some of the designated campsites typically reached by paddling.
Waters include Round Lake, Little Tupper Lake and Lake Lila. Click here for Whitney Wilderness Booklet
Round Lake Trail/Hedgehog Pond Trail Hedgehog Pond Trail is a 4.2 mile lightly trafficked out and back trail located near Long Lake, New York that features a lake and is good for all skill levels. The trail offers a number of activity options and is accessible year-round. Dogs are also able to use this trail.
Mt. Frederica (2,170 feet) is the only mountain in the area with a trail to the summit. The summit provides views of Lake Lila and other lands and waters to the south and east. There are two starting points for this hike.
A 4.8-mile hike begins at the Lake Lila Parking Area and travels along a private access road. A trail intersects with road 0.2 mile after the road leaves the lake shore. The trail climbs 400 feet and 1.2 miles to the summit.
An access site on the western shore of Lake Lila at the site of a former lodge, not far from where the private access road leaves the lake allows paddlers to reduce the length of the hike to 1.6 miles.
Lilypad Pond Trail begins at the Burn Road Parking Area on the Sabattis Road and travels 8.2 miles to the Lilypad Pond paralleling the northern shore of Little Tupper Lake and crossing Charley Pond Outlet. Camp Bliss Trail intersects with the Lilypad Pond Trail at the 4.7-mile mark and travels 1 mile to the clearing where Camp Bliss stood on the western shore of Little Tupper Lake, passing the eastern edge of Bum Pond on the way.
Rock Pond Trail intersects with the Lily Pad Pond Trail at the 5.7-mile mark and travels another 2.8 miles to the eastern shore of Rock Pond.
Hardigan Pond Trail is a spur trail that intersects with the Rock Pond Trail at the 1-mile mark and travels 1.5 miles to Hardigan Pond, following an old railroad grade shortly before reaching the pond.