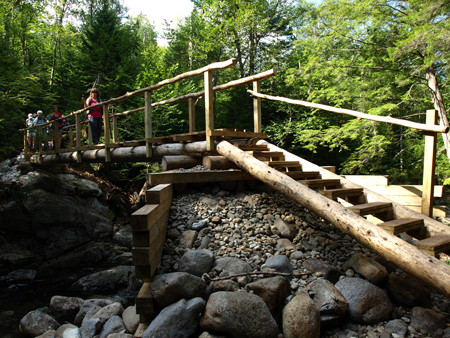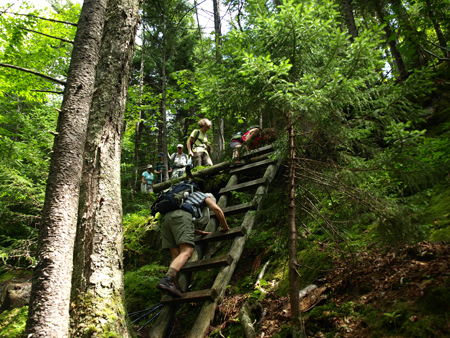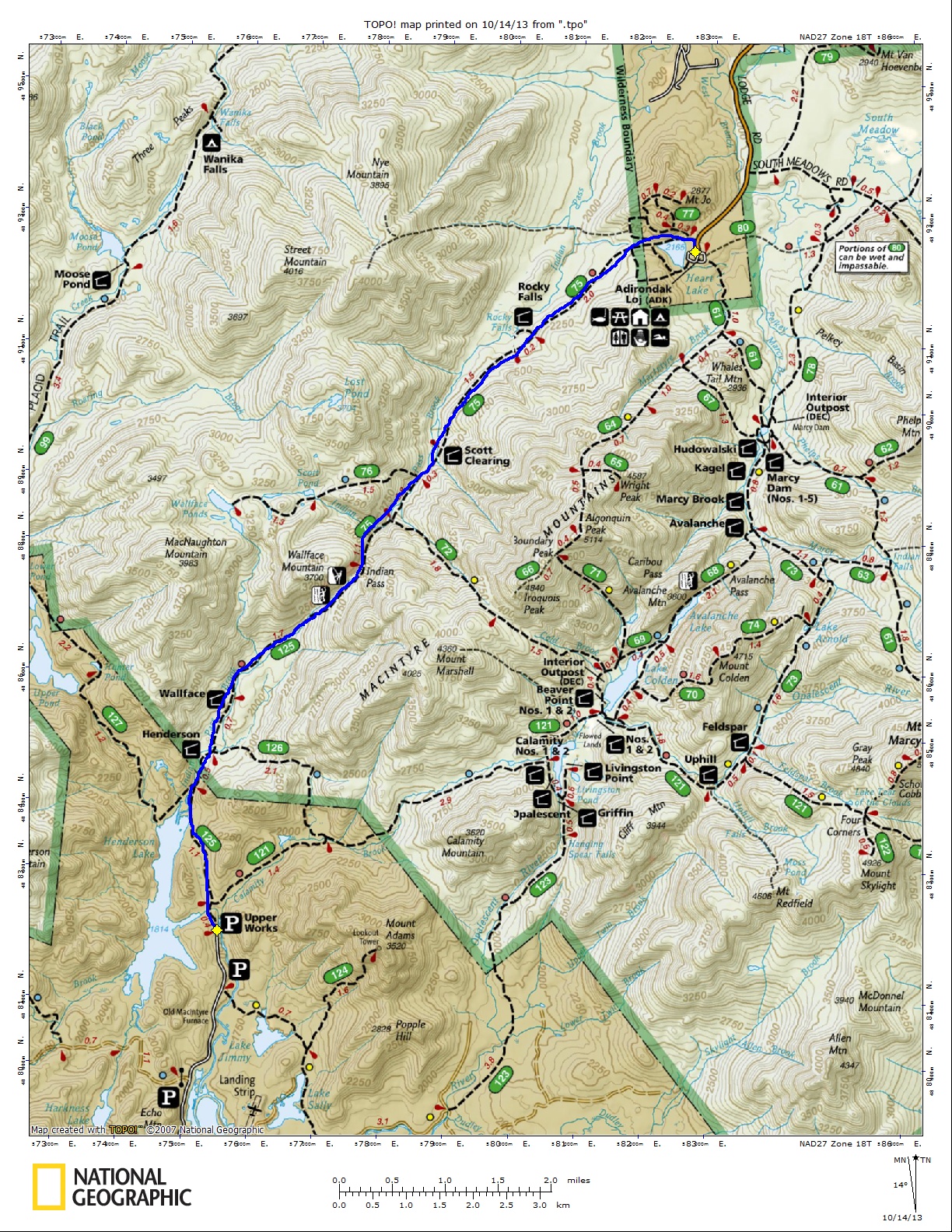 Summit Rock and Indian Pass from Upper Works
Indian Pass is a historical significance for the Adirondack Park and was the key passageway to the discovery of the Tahawus Mine in the Upper Works Region. While the lower portion of this hike is easy to moderate the upper reaches of the pass can be very difficult and somewhat overwhelming to some. Plan most of your day to exploring this area and bring your camera.
From the trailhead start your hike along a gravel road and cross the bridge over the Hudson River. Just past the Hudson River there is a left, avoid this left and continue straight. In another 0.2 miles or so there will be another left, follow this left toward Duck Hole and Indian Pass.
This next section of trail continues to follow an old carriage road though an attractive forest as it parallels Henderson Lake (not in view). The old road is very muddy in several locations but some trail rerouting is being processed to avoid some of the wettest areas. As the trail climbs moderately you will come to an old clearing before you descent for a while to where you can get a visual of Henderson lake to your left. Soon after there will be another trail breaking off to the left over a bridge, heading to Duck Hole, do not follow here, and continue straight.
Heading straight you will contend with more settled mud and pass by Henderson Lean-to on the hill to your right. Not far after this point another left will appear, take this left toward Indian Pass. This trail will lead over a new bridge that crosses Indian Pass Brook and lead you through an open forest back to the brook at Wallface Lean-to, slightly out of sight to your left.
Passing through the abandoned lean-to site the trail remains relatively flat as it parallels the brook. You will have several wet areas and mud is frequent. Eventually you will cross Indian Pass Brook and start an aggressive climb into the pass.
From this point expect large boulders, some the size of 2-story buildings. You will pass through these and over some of the small ones. The air will feel much cooler in here and everything will feel damp to the touch. There are also three ladders along this section as you approach summit rock and fourth ladder to top out on Summit Rock itself. This region within the pass is very slippery and sees much less sun, keeping everything a bit wet and slick. Use caution and care on the steep slopes and especially the ladders and even more caution on the descent.
Elevation:
2880'
Ascent:
1120'
Distance Round Trip:
9.0 miles
Approximate Time:
Family of Four with Kids:      Not recommended for young children
Experienced Hiker:                  2.5 hours to Summit Rock
Inexperienced Hiker:               3.5 hours to Summit Rock
Trailhead Location:
From the intersection of Route 28N and Route 30 in the Town of Long Lake follow Route 28N toward Newcomb. Drive through Newcomb to the Blue Ridge Road on the left. Follow Blue Ridge Road for a little over a mile to Tahawus Road on the left, look for DEC, Upper Works sign. Follow here to Upper Works Road on the left, look again for DEC sign. Follow this to the end at the Upper Works trailhead.
Winter Access:
This is a nice snowshoe destination, but the upper portions are very steep with boulders to contend with, making the upper reaches a bit more difficult but doable. Care is needed to safely navigate the upper portions, especially on the descent.
Information and photos provided by Spencer Morrissey of Inca-Pah-Cho Wilderness Guides – 607.267.3474