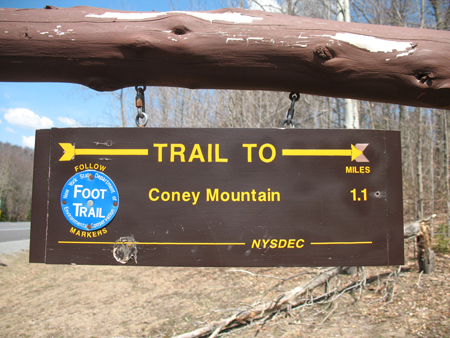 Coney Mountain by Spencer Morrissey:
Overview:
The trail for Coney Mountain used to follow the county line and climb steeply through rutted terrain to the top of a high ridge. This trail has since been closed and moved a bit further (200') north along Route 30.
A state trailhead sign now marked the start of the trail and enters what appears to be a dark forest from the road. But once in the woods it becomes very well lit as the light penetrates the canopy. The trail for the majority is very rocky and still quite new, so footing is a bit rough in areas. Following the well-developed trail you will sweep your way around the steep western slopes of the mountain. As the trail steepens a bit, it continues to contour its way around to the northern slopes of Coney Mountain and then meets up with the original trail just below the summit. The final approach is over slab rock, no scrambling is necessary. The views start to open up with Goodman Mountain to the north and Mount Morris to the northeast. The waters of Tupper Lake can be seen to the north as well and the wooded hills of the Horseshoe Lake Wild Forest to the west. As far as views go, this is one of the best in the area, with the best bang for the buck.
Elevation:
2265'
Ascent:
515', easy to moderate
Distance Round Trip:
2.2 miles
Approximate Time:
Family of Four with Kids: 1 to 1.5 hours to summit
Experienced Hiker: 45 minutes to 1 hour to summit
Out of Shape Hiker: 1 to 1.5 hours to summit
Trailhead Location:
From the intersection of Route 28 and Route 30 in the Town of Long Lake follow Route 30 toward Tupper Lake. Continue for a little over 12 miles to the Hamilton and Franklin County Line. There is a parking lot located there with a postal box on a state sign. The trail is a couple hundred feet up the road on the opposite side of the road. Be very careful of traffic when crossing Route 30.
Winter Access:
This trail is typically broken out by midday after a storm but can become quite slippery as you approach the summit, and typically very windy. This is a great snowshoe, not recommended for skiing.