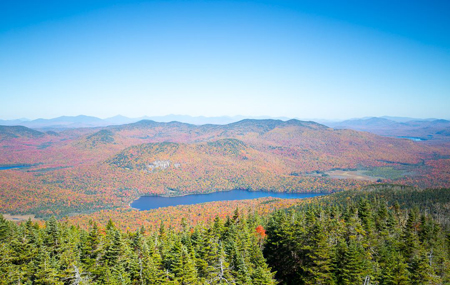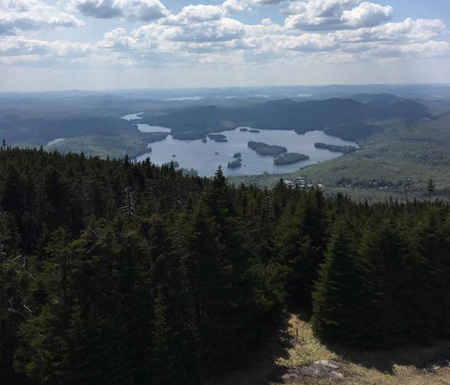 Blue Mountain Lake is centrally located between Long Lake & Raquette Lake.  The trailhead is located on Route 28N/30 at the top of the hill above the Adirondack Museum.  The parking lot is sizeable.
This is a tall mountain and just as challenging as some of the high peaks.
Start early when it is not too hot. Trail begins in the forest with tall trees. Jump from one boulder to another or walk through the maze of tree roots. The farther you go the steeper ascend is. Close to the top notice that the trees shorten 2-3 times.
Most of the second part of the trail is polished rock with moderate grade. When you notice small clearing on the left and can see partially abstracted by tries valley, you are almost there. May take a picture. (On the way back you may not want to stop.) Climb the fire tower for a great view.
Use caution during the rain as it is fairly rocky and can get slippery.  Good idea to bring along trekking poles to help navigate.  Make sure you have good hiking shoes with traction.
Red trail markers make this trail very easy to follow. The trail is almost exclusively in a rocky drainage course until the summit block is reached. The trail is shaded until the summit. Trailhead can become crowded so, you might want to get an early start. Poles and hiking boots or high tops are recommended as there are lots of rocks and some roots.