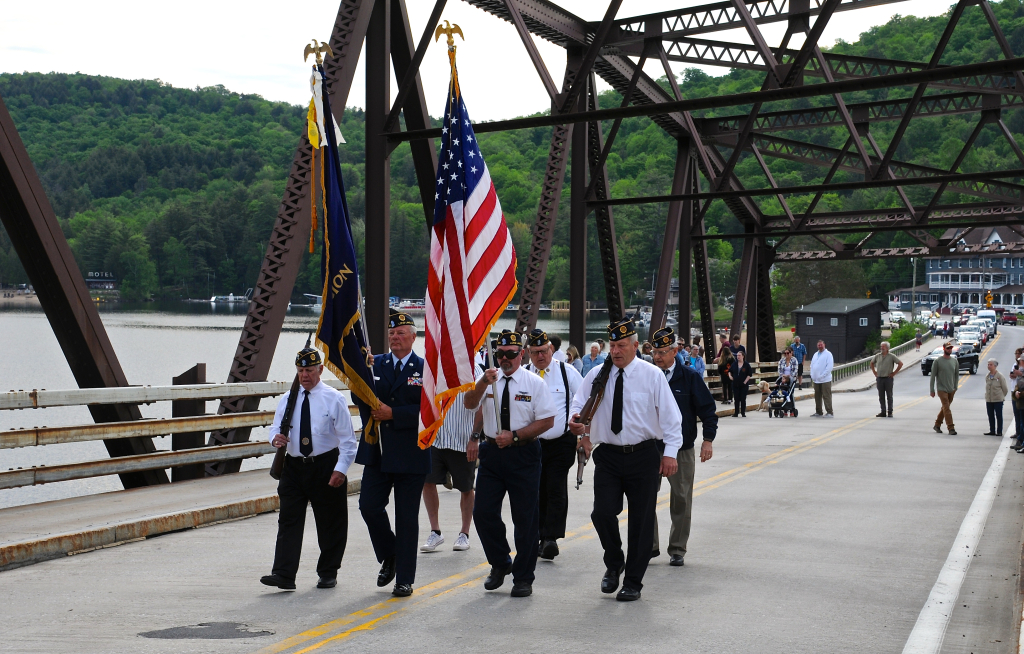 Monday, May 29th, 2023
11:30am American Legion travels to Long Lake Bridge for Ceremony
12:00pm American Legion Post #650 Memorial Day Parade Departs the Long Lake Town Hall and marches to Long Lake Cemetery
2:15pm Hamilton County  Memorial Day Parade departs Mt. Sabattis (intersection of Deerland Rd/NY 30 and South Hill Road) to Long Lake Central School. Any trucks, floats organizations marching meet at Mt. Sabattis Lower Lot by 1:45pm.

The Long Lake American Legion Post #650 will be hosting the Long Lake & Hamilton County Memorial Day Parade on Monday, May 29th. The Long Lake ceremonies start at 11:30am with a march from the Long Lake Town Hall to the bridge and back to the Long Lake Town Hall.  The official Long Lake parade will start at noon and with departure from the Town Hall  to the Long Lake Cemetery. A ceremony, speeches and honors will be held at the Long Lake cemetery immediately following the parade.
The Hamilton County Memorial Day Parade will start at 2:15pm. Line up for Hamilton County parade will start at 1:30pm and will be located at Mt. Sabattis parking lot along South Hill Road and parade travel to Long Lake Central School for a ceremony.
Any group, business or organization interested in participating is invited to contact the Long Lake Parks and Recreation Department at 518-624-3077 or email events@mylonglake.com
Event Organizer:  American Legion Post #650
All times subject to change without notice.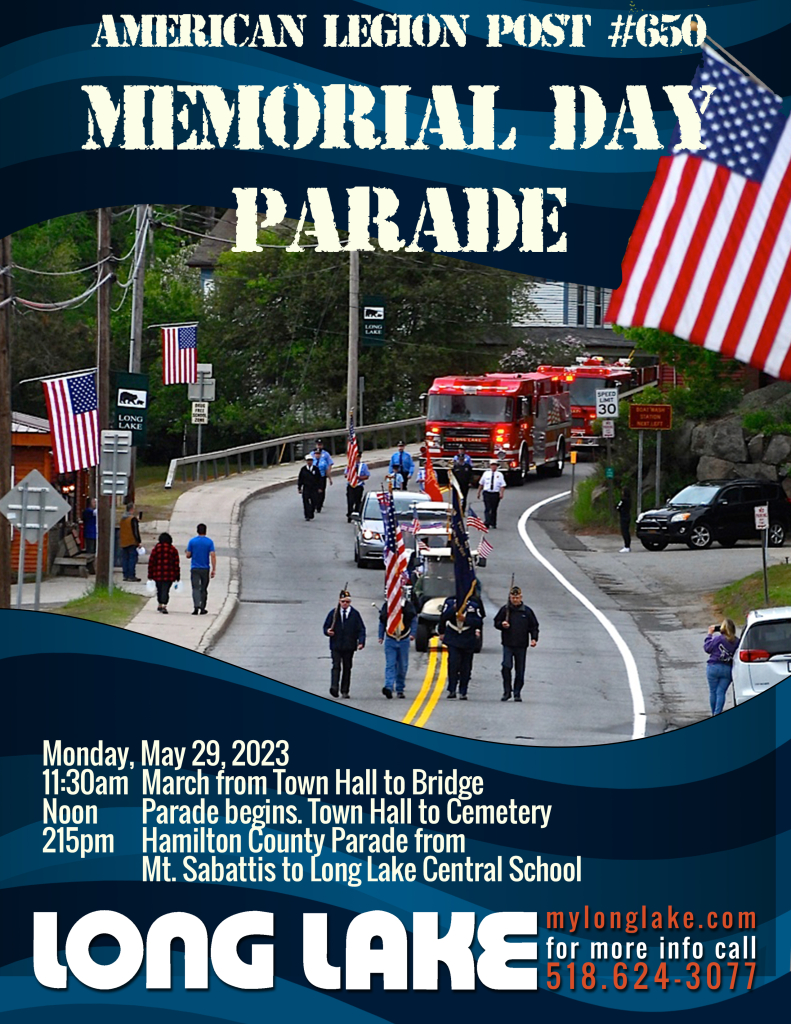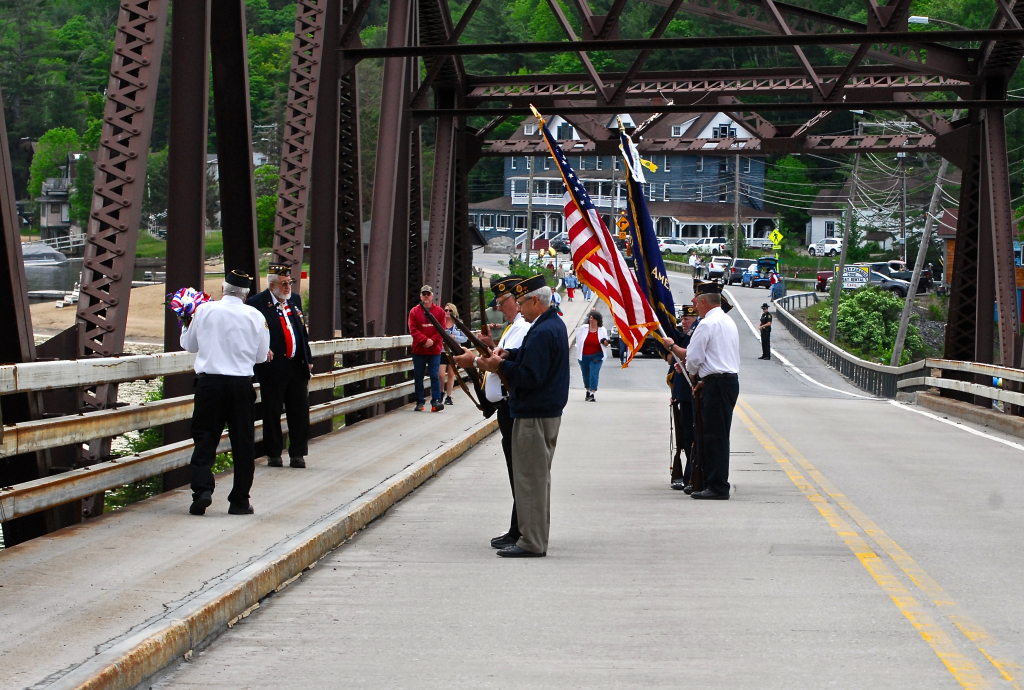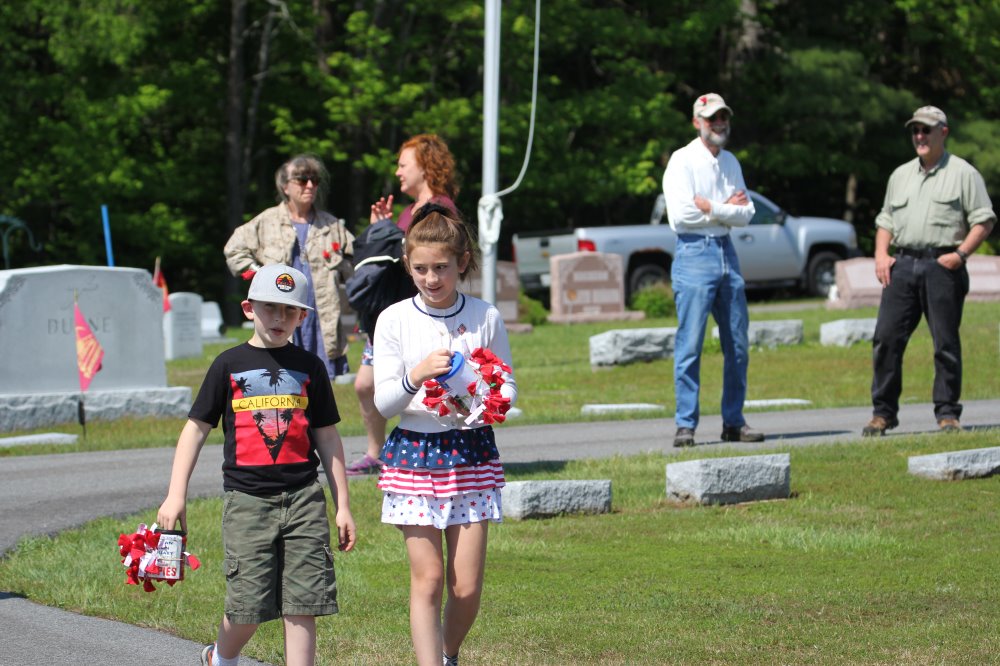 DON BOONE, Colonel (Retired)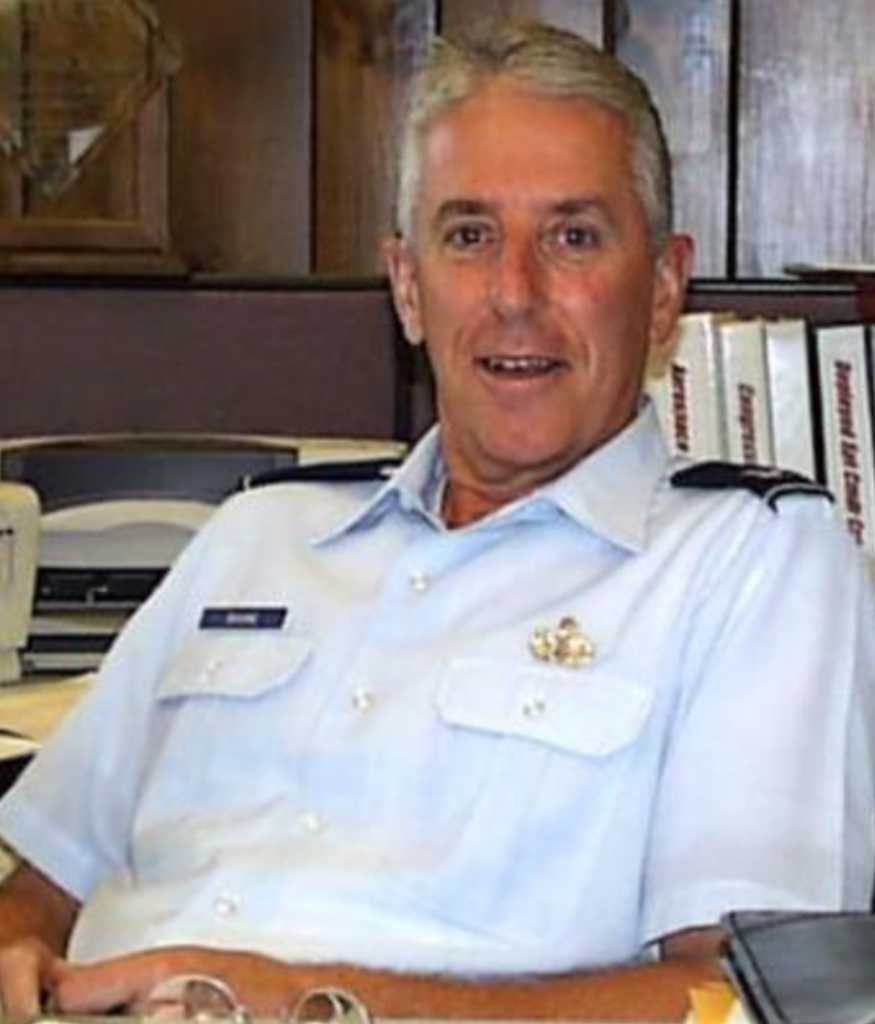 United States Air Force and Air National Guard
Career Journey: Growing up in Oneonta and Delmar, NY, Colonel Boone graduated from the State University of New York College of Environmental Science and Forestry at Syracuse University in 1967 with a Bachelor's degree in Landscape Architecture. He was commissioned as a 2nd Lieutenant through the Air Force ROTC program and reported for duty at Langley Air Force Base, VA in August 1967 as an Architectural Engineer.
In 1969, Col Boone deployed to Cam Ranh Bay Air Base and DaNang Air Base, Republic of Vietnam with the 555th RED HORSE Squadron. Modeled after the US Navy Seabees from World War II, RED HORSE was the Air Force's heavy construction, combat-qualified unit created specifically to construct airfields, supporting infrastructure and facilities throughout Vietnam. His unit was exposed to rocket attacks and occasional convoy attacks while conveying their equipment to unit detachments.
Col Boone returned to the US in 1970, serving with the 819th RED HORSE Squadron at Westover Air Force Base, Chicopee, MA, supervising heavy construction projects at home station and several detachments at various Air Force bases in the US. He separated from the Air Force in August 1971 and pursued a civilian career with Texaco, Inc and a Saratoga County engineering firm. He met professional standards to achieve status as a Licensed Landscape Architect in 1975 and a year later opened a private practice in Landscape Architecture & Environmental Planning in Schenectady, NY, conducting environmental assessments and designing residential, commercial & municipal projects.
In 1980 Col Boone joined the New York Air National Guard's 109th Airlift Wing at Stratton Air National Guard Base, Scotia, NY as the Base Civil Engineer and later as Civil Engineering Squadron Commander, directing construction, operations, maintenance, and services projects for 34 facilities within 119 acres. He led deployments to Torrejon, Spain, Aviano Air Base, Italy, Camp Las Delicious, Honduras, and numerous locations within the United States. He was selected as Mission Support Group Commander in March 1999, directing and accountable for engineering, real estate, environmental management, maintenance & repair, fire department, security forces, dining hall, communications, disaster preparedness, and human resources programs supporting 12 C-130 aircraft, 42 facilities and over 1,200 personnel.
After a tornado struck the Capitol Region in 1998 leaving a path of destruction from Mechanicville to Schaghticoke, Col Boone served as on-site coordinator in Rensselaer County, directing Air National Guard emergency response actions in restoring farmland and residences. Shortly after the 9/11/2001 terrorist attacks in New York City, Col Boone served as the Air Component Commander with Joint Task Force 42, directing all Air National Guard & Navy Reserve Seabee personnel in conducting operations supporting NYPD security and credentialing at Ground Zero and restoring Governor's Island facilities for 860 deployed _Army National Guard troops.
Following military retirement in 2002, Col Boone served as Chief of Facilities Management, Albany VA Medical Center, NY, directing engineering, housekeeping, transportation, and maintenance operations for the 1 million square foot facility, 26-acre campus. In 2006, he joined the National Guard Bureau at Joint Base Andrews, Washington, DC as Director of Air National Guard Installation & Environmental Planning, Facility Requirements and Strategic Facilities Basing programs through his retirement in 2014.
Colonel Boone received a Master's degree in National Security and Strategic Studies in 1997 from the US Naval War College, Newport, RI, and has been awarded the Legion of Merit, Bronze Star, Meritorious Service Medal, Outstanding Unit Award, Republic of Vietnam Gallantry Cross, and New York State Conspicuous Service Cross. He resides in Ballston Lake, NY with Barb, his bride of 52+ years and is deeply privileged to complete over 37 years as a military and civil servant in service to our Nation.