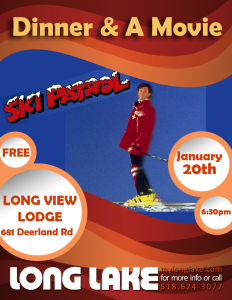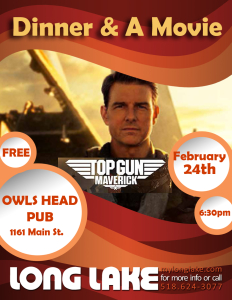 The Long Lake Parks and Recreation Department is launching a series of dining events to encourage local residents and visitors to come together and support the local economy during the winter months which are so reliant upon Mother Nature cooperating and delivering us snow-pack. In 2023 she's been a bit slow to rev up her snow making machine. She did come through in mid-January to sprinkle some snow on Mt. Sabattis for Winter Carnival, but the scant snow has proven to be a challenge. Now the Long Lake Parks and Recreation Department has decided to tackle this challenge head on and create some events that will support the winter economy and also encourage people to get out of their houses and have some fun. Attending these town events also counts as an activity to cross off  for the Long Lake Winter Wonderland Bingo Challenge.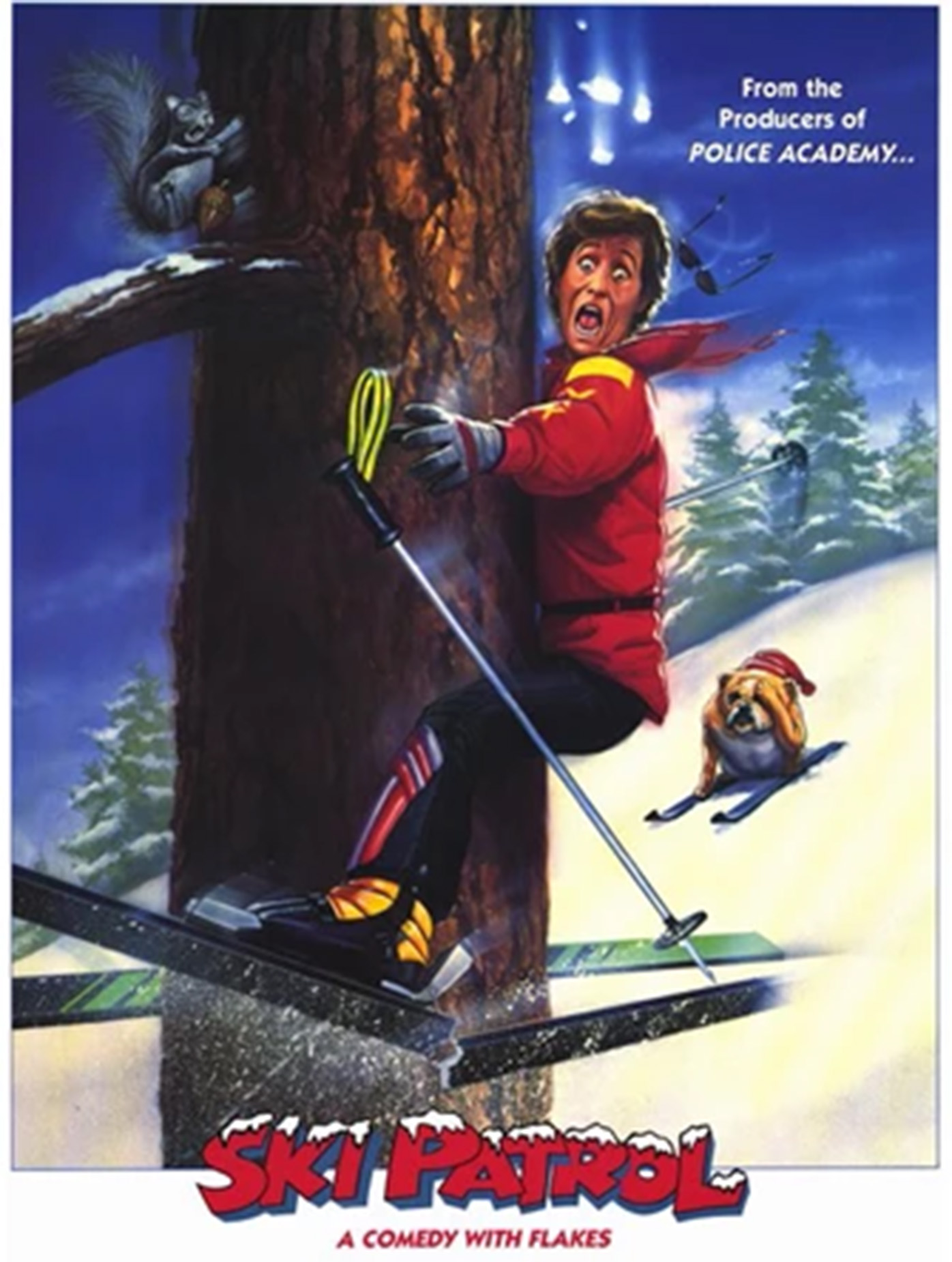 Dinner and a Movie launches Friday, January 20th at the Long View Lodge, 681 Deerland Road, Long Lake, NY  with Ski Patrol. The 1990 comedy "Ski Patrol" is from the producers of Police Academy and will start at 6:30pm featuring action, comedy, skiing and laughs. Enjoy a nice meal out with family and friends in Long Lake. The story follows a crew of ski patrolers as they have fun, keep the mountain safe, and try to save the lodge from greedy land developer.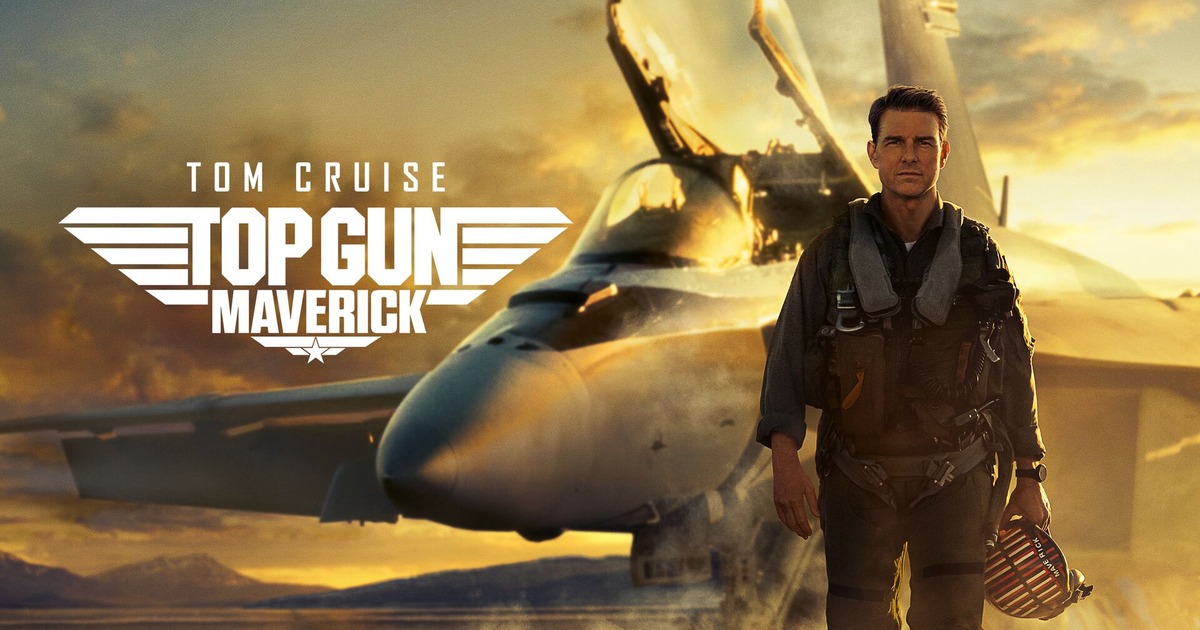 On Friday, February 20th, at 6:30pm Dinner and a Movie arrives at the Long Lake Diner/Owls Head Pub, 1161 Main Street Long Lake. "Maverick, Top Gun 2" features Tom Cruise as Pete "Maverick" Mitchell  who returns after 30 years as one of the Navy's top aviators. Maverick pushes the envelope as a courageous test pilot. Maverick is tasked to train a detachment of graduates for a special assignment, culminating in a mission that demands the ultimate sacrifice from those who choose to fly it. Everyone is encouraged to come out early and enjoy a meal while enjoying this fast-paced reboot of Top Gun.
Long Lake Parks and Recreation leads these three Dinner and a Movie events by providing the projection, and media as well as the licensing rights to bring these movies out to our area restaurants.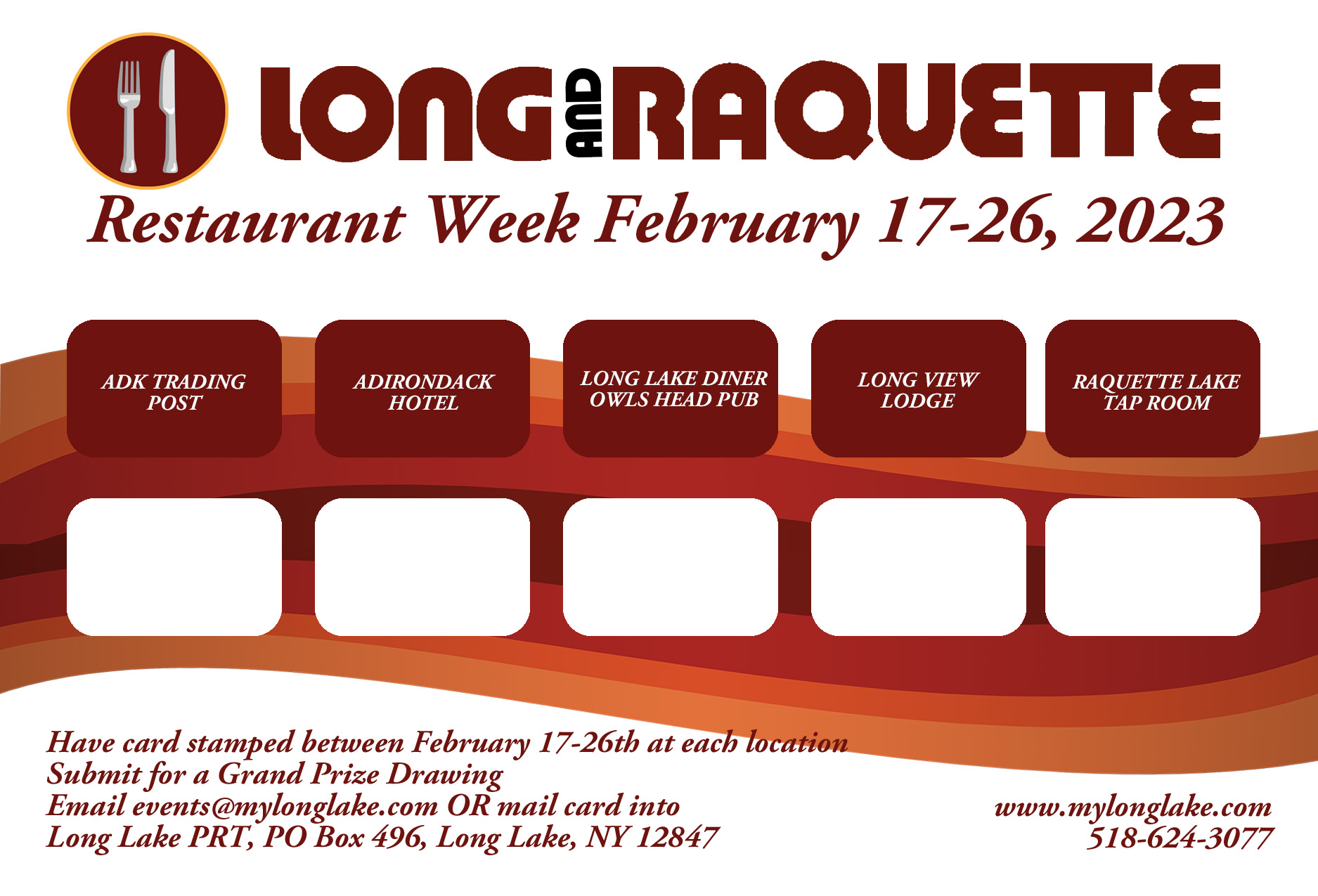 Long Lake will also be hosting a winter Restaurant Week, from Feburary 17th – February 26th.  Participating businesses include: The ADK Trading Post, Adirondack Hotel, Long Lake Diner/Owls Head Pub, Long View Lodge and the Raquette Lake Tap Room. Participants can pick up their dining card at area restaurants or the Long Lake Town Offices at 1130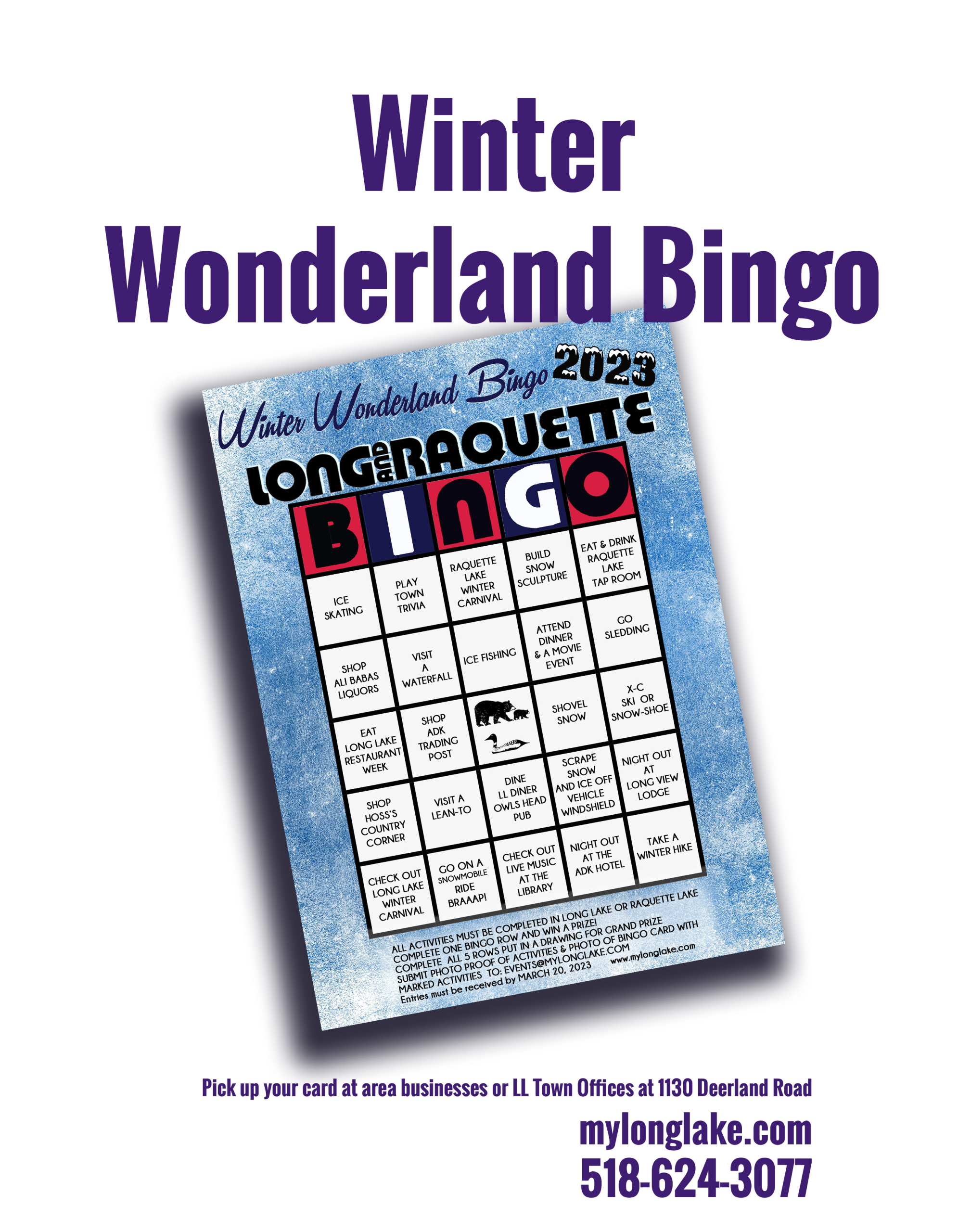 Participation in all these events count as getting spots in Winter Wonderland Bingo 2023 which is open through March 20th. Cards are available at the Long Lake Town Offices or area businesses.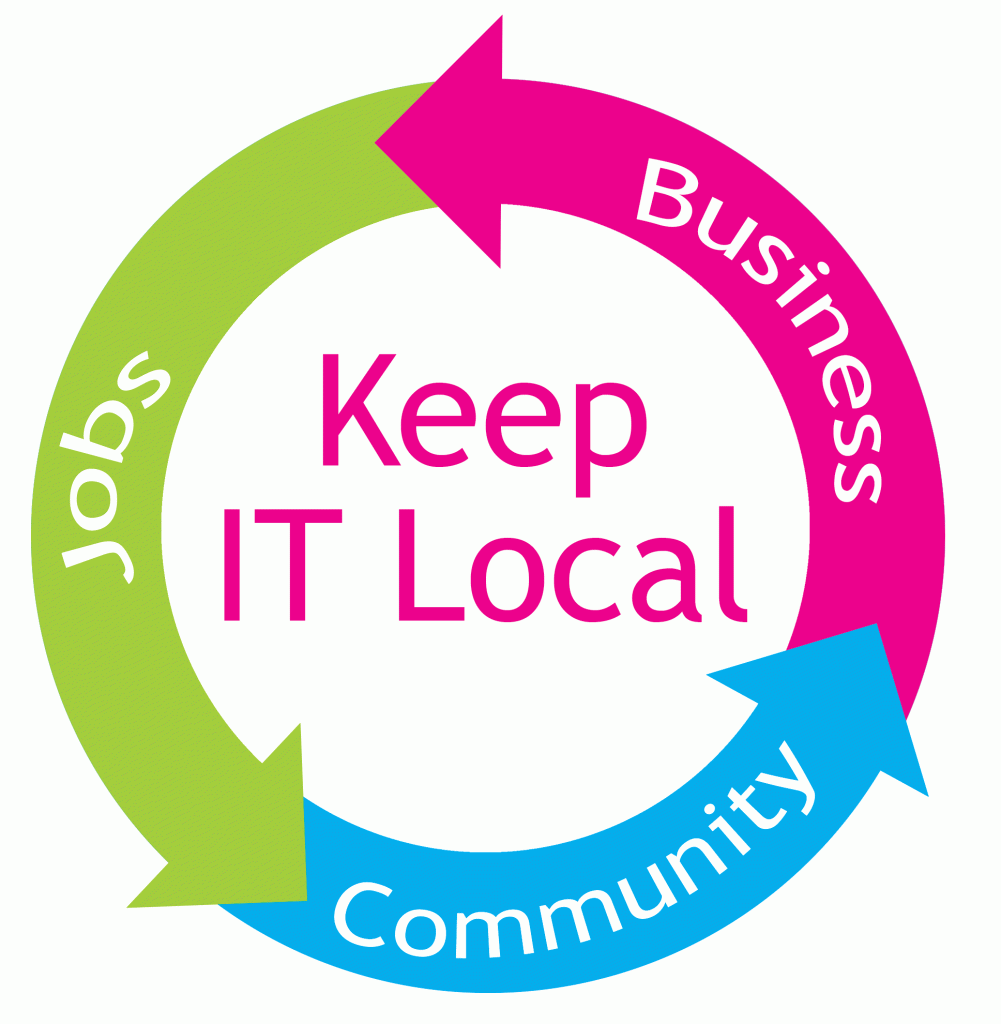 Local businesses are the backbone of our Long Lake and Raquette Lake community. Every time you make a purchase, you have a choice to make a tangible impact and help sustain our year-round economy.
It's been a sludgy start to the winter season and the Long Lake Parks and Recreation Department has been tasked with creating inventive ways to connect the community and economy together and we make it our mission to make it fun. In addition to the dining events, the Long Lake Geiger Arena is open five days a week,  there will be Winter Wonderland Week in February, Raquette Lake Winter Carnival, Ice Fishing Derbies, and a special event coming in March. Get a full event schedule at www.mylonglake.com/events
#celebratelocal #mylonglake #longlakeny #raquettelake #adirondacks #shoplocal
And always a staple on the  Schedule – TRIVIA
Get your pencils and your brains together!
Trivia Night, always at 7pm at the following locations
The dates and tentative locations for trivia are as follows:
January 11 – Diner
January 25 – Adk Hotel
February 8 – Long View Lodge
February 22 – Diner
March 8 – Adk Hotel
March 22 – Long View Lodge
Trivia is also hosted at the Raquette Lake Tap Room at 3pm!  With
Kat Forsell
Jan 11
Jan 25
Feb 8
Feb 22
Mar 8
March 22