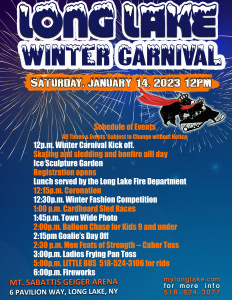 All the fun happens in Long Lake. At least that is what the natives like to say!
Check out all the fun activities in Long Lake on Winter Carnival Weekend.
On Saturday, January 14th at noon, the 21st Long Lake Winter Carnival will be held at Mt. Sabattis Recreation Center in Long Lake, NY.
Events begin with a coronation of the King and Queen of the Moonlighter's Snowmobile Club followed by a slate of fun family friendly events. The Cardboard Sled Races start at 1p.m. with prizes awarded for speed and overall award for Best in Show. Sleds can be made with cardboard, paint, wax and tape. Racing categories are for individuals and for teams. There will be a bonfire as well as ice skating and sledding available all day.
Other events throughout the day include a Fashion Competition. Don your best and most outlandish winter outfits. Team themes are encouraged. Other events include: Town-Wide Photo, Kids Balloon Chase, Goalie's Day Off, Men's Feats of Strength, the Ladies Frying Pan Toss, and fireworks at 6:00p.m. All events are free.
The Ice Farm will be installing an ice sculpture garden. Local businesses and organizations are encouraged to sign up with Long Lake Parks and Recreation to be included featuring 15 installations. Special thanks to our 2023 sponsors including: Ali Baba's Liquors, Tails of Long Lake, Shamrock Motel & Cottages, Howe May We Help You llc, Burnt Mountain Lodge, Roalsvig Law, ADMAR Construction, ADK Trading Post, Thomas Donnelly Logging, Life Power Chiropractic, Adirondack Experience,  the Museum on Blue Mountain Lake, Chipman Woodworks, Merrill Thomas Inc., Britton Inn and Cabin, Howe May We Help You, Hoss's Country Corner, Deerland Property Services, Doug Horn, Alex Helms Excavation & Logging, Long View Lodge, Superior North Woods Electric,  Motel Long Lake, and the Town of Long Lake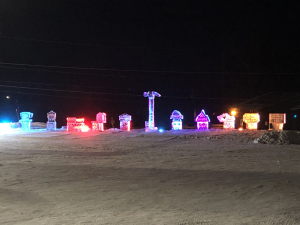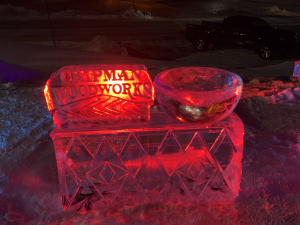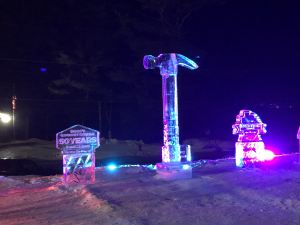 Schedule of Events – All times subject to change without notice. The Long Lake Fire Department will provide complimentary hot food until they run out. This event happens snow, rain, or sunshine. All times subject to change without notice.
Schedule of Events
12p.m. Winter Carnival Kick off, Ice Sculpture Installation Begins, Registration opens, and lunch served by the Long Lake Fire Department and T-Shirt Sales open!
12:15p.m. Coronation of Moonlighter's Royalty
12:30p.m. Winter Fashion Competition
1:00 p.m. Cardboard Sled Races
1:45p.m. Town Wide Photo
2:00p.m. Balloon Chase for Kids 9 and under
2:15p.m. Goalie's Day Off
2:30 p.m. Men Feats of Strength Caber Toss
3:00p.m. Ladies Frying Pan Toss
4:00p.m. Free skating and sledding and bonfire
5:00p.m. Little Bus Free Transportation, please call 518-524-3106
6:00p.m. Fireworks** NEW TIME FOR 2023!  Best seen from Mt. Sabattis! 
Live Music! 
On Friday, January 13th there will be live music featuring Scotty Evans from 6 p.m. to 9 p.m. at the Long View Lodge. On Saturday, January 14 look for music by The Altered Tones from 8 p.m. to 10 p.m at the Long Lake Diner in Long Lake, NY and music by Eric Peter on starting at 8 p.m. at the Adirondack Hotel. The Long Lake Little Bus will be running until last call so hop aboard and get out and have some fun!
Yummy Food Specials
Don't miss out on food specials too. The ADK Trading Post will be serving up their traditional Lobster Rolls for the holiday weekend and the Long Lake Diner/Owls Head Pub will have a special Mexican Night feast available on Saturday night following the Winter Carnival.
The Mt. Sabattis Recreation Center, Geiger Arena is located at 6 Pavilion Way on Deerland Road, NYS Route 30 in Long Lake, NY. Parking available in the lower parking lot, along South Hill Road, Owls Head Lane and at the Post Office after 12p.m. There will be free shuttle service running starting at 5 p.m. until late night to and from the event location and pickups throughout town. Call 518-524-3106 for a ride. Open to the public.  Snowmobiles welcome!
For more information about Long Lake, www.mylonglake.com or call 518-624-3077.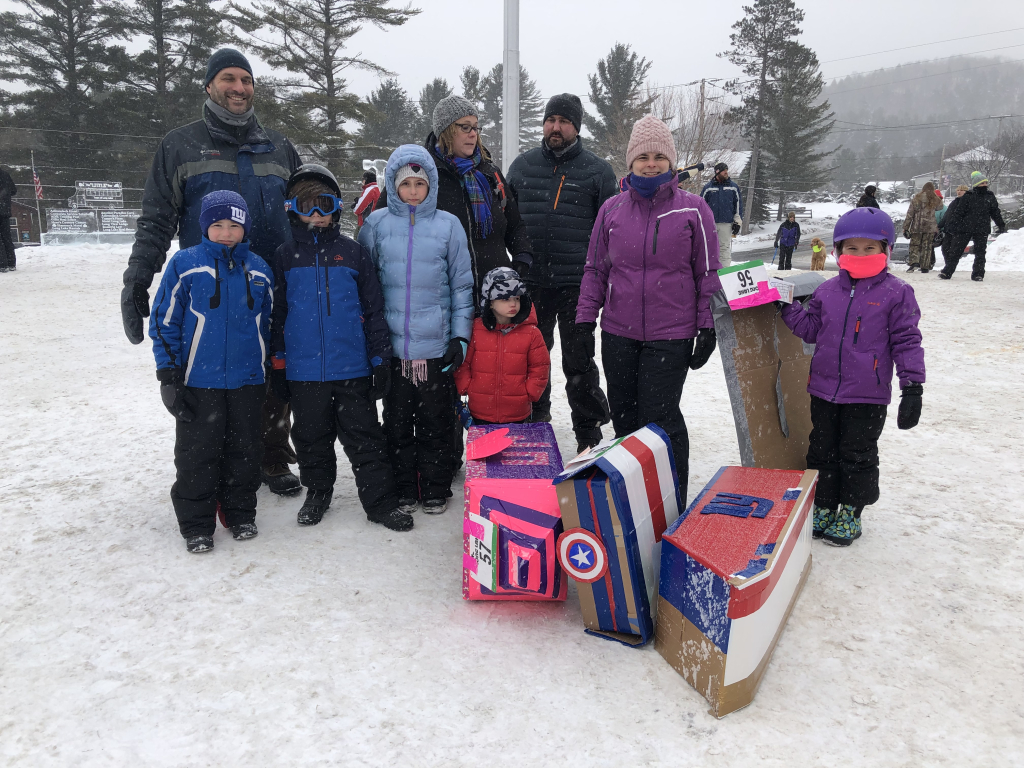 Scotty Evans Performs at the Long View Lodge on Friday Night, January 13th at 6pm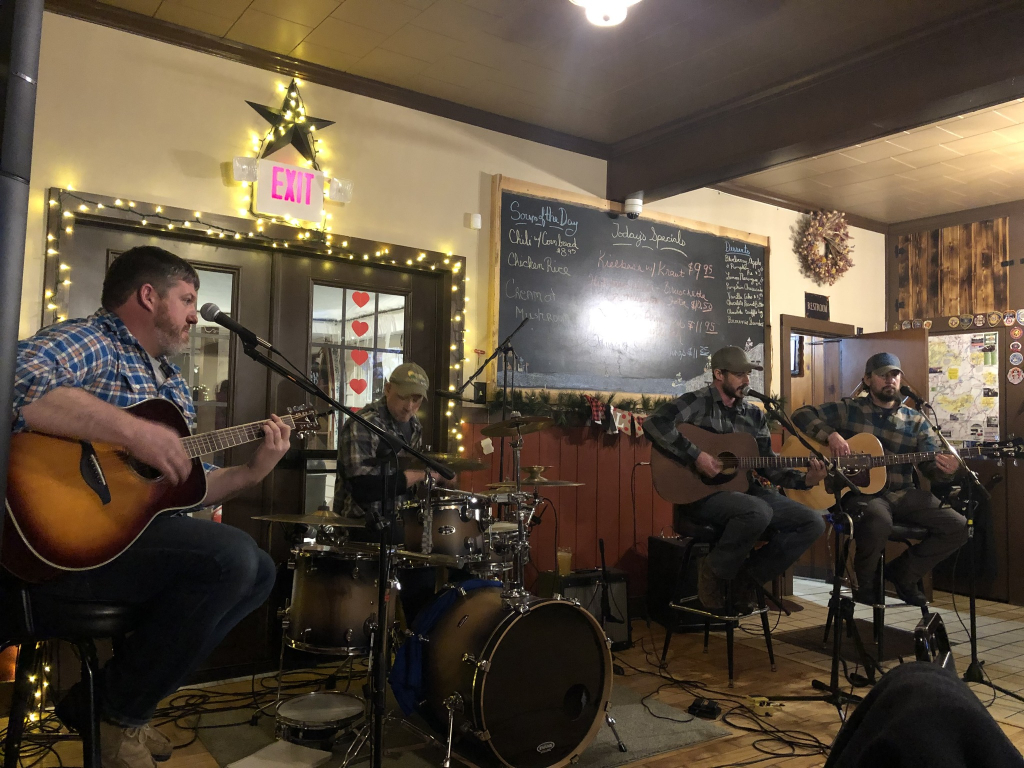 The Altered Tones will play at the Long Lake Diner during Mexican Night, January 14th at 8pm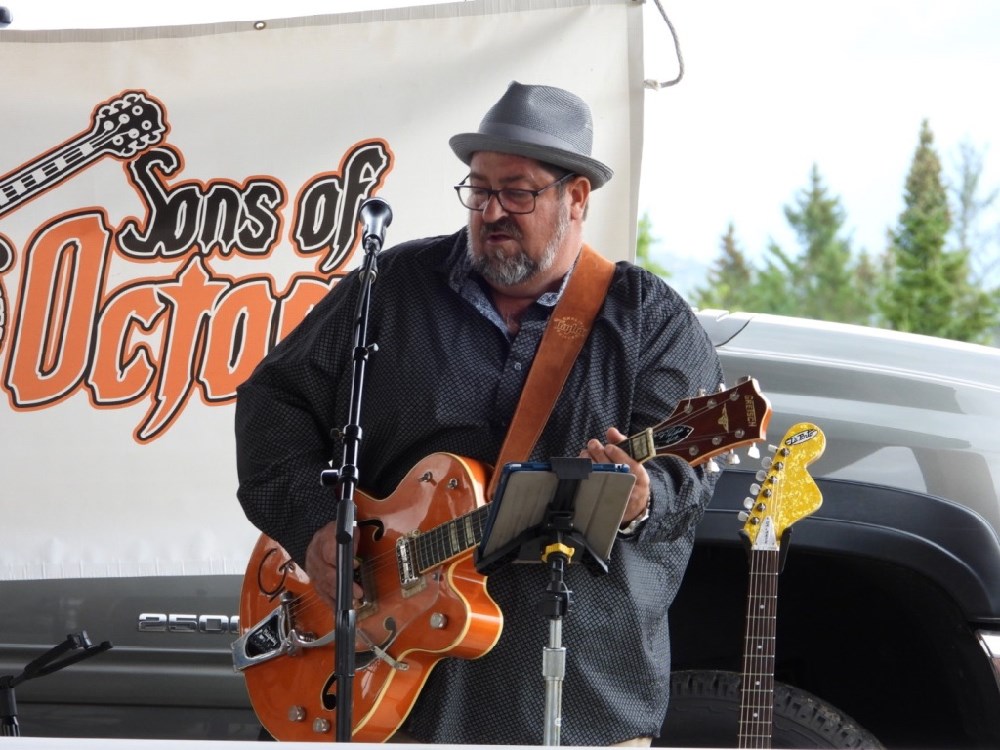 Eric Peter performs at the Adirondack Hotel starting at 8pm on Saturday Night after the Winter Carnival